Music, Orbs And Energy At The Wine Cellar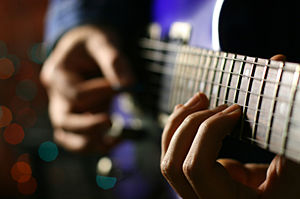 My husband is a drummer in a local band and I occasionally go to his gigs with him.  The other two members of the band are Robbie, front man and lead guitar, and Tim, bass guitar.  Their partners, Norma and Jackie, usually go to most, if not all, of the gigs.
As an empath I'm pretty careful where I go, because the noise, lights and sensory input is quite a lot to handle. I usually sit quietly in a corner, where I'm not in anyone's way and where I can just observe people.
The band sometimes plays at a place called The Wine Cellar and one night I decided to go. The history of the bar is rich, colorful, unusual and fascinating. The building was erected in the late 1800's, when the railroads were first established, and it served as a speakeasy until prohibition was over.
Music is the mediator between the spiritual and the sensual life  ~ Ludwig van Beethoven
During the prohibition underground tunnels were built, which served as a discrete way for bootleggers to deliver homemade alcohol to the gin joints, as well as for other reasons.
On the walls of this venue there are pictures of 'The Brat Pack', as well as displays of vintage saxophones, guitars, art, other brass instruments, a set of keys to an old piano and a couple of water features. It is rumored that this district was so seedy that Al Capone once said the city was too wild for him!
The evening I went we got there early to set up the equipment. The air was already electric with anticipation when we arrived.  The only place to sit, and be out of the way, was next to the bandstand and from there I, as usual, just observed.
There is no doubt in my mind that the orbs may well be one of the most significant 'outside of this reality' phenomena mankind has ever witnessed ~ Klaus Heinemann
Interestingly, one of the first things I noticed, from the corner of my eye, was a lot of spirit activity in the place. I never felt threatened or unwelcome. We took pictures and in the pictures we later discovered many orbs of various intensities and sizes. There was a real phantom party going on there that night, and it was great!
Another unusual thing I noticed that night was a line of light, slightly larger than a garden hose and flared on each end, running from Norma to Robbie, and back.  The line at Norma's end was crystal white, fading to a crystal blue on Robbie's end.
This amazing line tells me a few things about the two of them. When Robbie is performing on stage it's aimed at Norma, as much as it is to the crowd.
A soul connection is a resonance between two people who respond to the essential beauty of each other's individual natures, behind their facades, and who connect on this deeper level ~ John Welwood
Singing to Norma is healing to Robbie. It is an energy seldom seen or felt by others. Norma sends Robbie pure energy, total love and acceptance. In fact, at times Norma is the music, Robbie's muse if you will.
I quickly jotted down what I had seen on a cocktail napkin and later, after they read what I had written, they validated what I had seen.
I have been subconsciously reading auras for years, and in recent years I'm getting pretty good at seeing 'hot spots' or 'dark spots'. These auric spots are an indication of illnesses, but I've never seen a bonding like that, in that way. It was pretty cool, and I can't wait to go back with my own camera!
About The Author: Indigo

Indigo is an Indigo child, her gifts have been handed down through generations, and she has used them since she was a teenager. Using a unique blend of, tarot, astrology, numerology, psychology and clairvoyance, she is able to give you the most information in the shortest time possible to help you find a way to change your situation. She has been a spiritual advisor in her community for 20 years and continues her education, while fostering the gifts she has handed down to her grand-children. You can get a reading from Indigo at PsychicAccess.com.