How To Get The Most Out Of Your Psychic Readings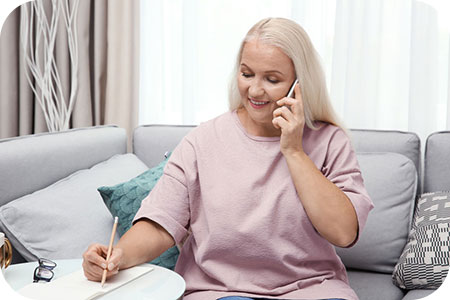 Clients who are calling in to a psychic for a reading are usually struggling with something. There may be many emotions going on at the time of the call, but it is important to ask the right questions and focus in on the area you want get clarity on. There are some steps you can take to help improve your readings and get the most out of your time.
One of the most important things, and something we don't always have control over, is the energetic connection between the psychic and the client. Make sure you choose a psychic that you feel strongly connected with – someone who is able to clearly read your energy. This may require trying out several psychics before you find on one you truly feel a connection with, but it will be worth it in the end. Once you find the psychic that you are energetically in-tune with, you can begin accessing useful answers and insights into various areas of your life.
It is not the answer that enlightens, but the question ~ Eugene Ionesco
Before calling a psychic for a reading, always center your own energy first and bring yourself into a calm state of mind. This will allow for better clarity in the reading, as well making sure you can focus on the call. Write down your questions before calling and make sure to ask your questions in order of priority in your life. By being in a calm state of mind and having direct clear questions you will be able to take control of your reading and make sure that you have clarity in the answers you are seeking.
The environment in which you are when you make the call is also important. Make sure you are in a quiet, peaceful place where you can really focus on the answers given. Distractions around you can throw off the energy and flow of your reading. The more calm and clear your energy is the better. Try to make your environment reflect this state of mind.
When you are considering the questions you want to ask, it is always best to ask the most open-ended questions possible. This allows the psychic to really elaborate on the energy coming through during the reading. Avoid restrictive and simplistic 'yes' or 'no' answers, and instead give the psychic the opportunity to give detailed answers to your questions.
We are blessed with guidance and it is within our power to find ways to both express and listen to this wisdom. The choice is ours ~ Susan Barbara Apollon
During the reading take some notes of what the psychic is saying, or record the session with your psychic's permission. There are sometimes small details that can be missed that will make sense later, so it is important to keep a record. Keeping a journal of questions and answers can also be very useful when looking back. You want to get the most out of your reading and an important part of that is retaining the information provided by the reader.
Before your next reading make sure to take the steps to clear and center your energy, find the right psychic for you, write down your questions and answers, prepare your environment to be distraction-free, and finally make sure that you are focused on your own energy. These are some helpful ways in which to improve your psychic readings.
About The Author: Summer

Summer resides on the East Coast and is a skilled Energy Worker, Tarot Reader and Counselor with a Master's Degree in Psychology. Over the last ten years, her compassionate approach has empowered many clients to overcome difficult life situations. Her clear Intuitive answers, coupled with her counseling credentials, make her the ideal practitioner that her clients return to for advice. She specializes in the areas of love, career and relationships, and clients testify on how accurate her predicted timelines have been. Many also report on relationships that have been restored, thanks to her sage advice. If you'd like to relieve anxiety, find answers and know what the future holds for you on any situation, you can find Summer at PsychicAccess.com.