Retrograde Release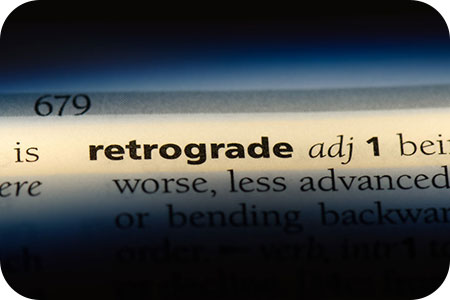 Astrological retrogrades offer a much-needed cleaning of your space, specifically mental and emotional. It is almost like doing a spring cleaning in your home, when you go through your things and purge that which you are no longer using. During a retrograde you may also go through and do a 'deep cleaning'… scrubbing and scouring so everything is fresh and new again.
This is what retrogrades offer you. It is an opportunity for a deep soul reflection. Truly turning within and determining what is working, and what is not in your life.
After a retrograde cleansing the energy begins to flow more easily again, as you loosen your grip and practice holding and releasing gently. It is a time to let go of old energy attachments and holding things with greater ease and grace, instead of digging your claws in, while remaining fearful of losing it.
After a retrograde it is time to allow fear to subside, and to move into your perfect state of posture, that place of unconditional love found deep within your soul, your spirit. When you are in that energy field, you are able to grasp things loosely, instead of having a choke-hold on everything.
When I let go of what I am, I become what I might be. When I let go of what I have, I receive what I need ~ Tao Te Ching
When you relax your attachment, you can begin to trust that if it is supposed to be in your life, it will stay, and if it is not, it will go, without trying to control or trying to force anything to happen. This is when you open up to so much more than you are capable of, so many endless opportunities for new experiences in your life. For when you have too much stuff, there is no opening for adventure, for new friends, for other ventures. Create that space by letting go, trusting.
Remember, you have a plethora of angels uplifting and inspiring you daily. Ask and be open to receive their guidance.
I am Metatron and I have spoken here this day.
*Adapted from a recent weekly energy report channeled from Archangel Metatron.
About The Author: Julie

Julie is a psychic Medium, healer, and spiritual educator from Wisconsin with a plethora of metaphysical credentials too long to list here. After her father's passing, almost eighteen years ago, she fully embraced her natural gifts as a psychic Medium and now works full-time helping others all across the globe with spiritual readings and teachings from the beyond. She is the host of two radio shows, the owner of her own healing business since 2007, and heads an online University for international soul development (HSU). Julie is a Channel for Archangel Metatron, delivering clear messages to clients that transform their lives. If you'd like to experience this highly qualified and gifted metaphysician for yourself, you can find Julie at PsychicAccess.com.