But We Have Such A Connection!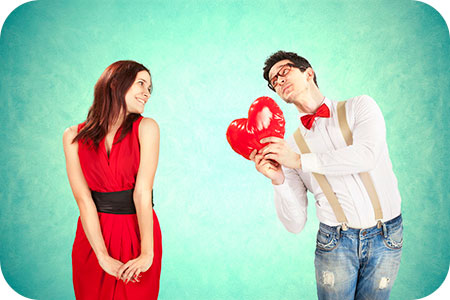 I hear this often from callers… how they have met someone whom they have such an amazing 'connection' with, and then they tell me they wouldn't have otherwise given this particular person a chance. It could be this person is not their type, looks or otherwise; or the person treats them very badly; or the person is attached to someone else.
I often hear from my callers, who are experiencing negativity and toxicity from such a person, that they would have run the other way had it not been for that amazing 'connection.'
I have also experienced such a circumstance in my own personal life. I met a man a few months after I moved to a different state. I wasn't necessarily looking for a relationship at the time, I just decided to go out and have some fun socially. I met him a few days after registering on this online dating site.
I emphasize again, I wasn't looking for anything serious. I had just gotten out of a six year marriage and wasn't about to enter into another relationship right away. I met him in person after some conversation and we had instant chemistry!
I hadn't felt that way about a man in a very long time. I don't feel even my ex-husband and I had such an intense chemistry. I felt feelings I hadn't experienced before. It awakened in me a feeling of being alive. Our relationship progressed very quickly and soon we were inseparable.
Let no one who loves be called unhappy. Even love unreturned has its rainbow ~ James Matthew Barrie
Then the masks came off and we were in this back and forth cycle for over a year. We broke up so many times, I lost count. His drinking and other habits made me question my self-worth as a person. He became controlling. I started acting like a jealous person, and I didn't like who I was turning into. I would think to myself, "Why am I tolerating such behavior?"  Then I would reason, "We have such a wonderful connection!"
On one of our numerous break-ups, he was hit by a car. The healer in me wanted to help him. I even felt this is why we were coming together! I was going to help him with my healing abilities. And I did so for a while, until he no longer wanted me to perform such healings on him.
After a while, I couldn't tolerate his treatment of me. I felt like I was being disrespected and unappreciated. Every time we broke up, I got stronger and stronger, but the 'connection' I felt for this man was still there! My logical mind couldn't understand why I kept going back to a man who treated me so poorly.
The last time we broke up, it was the final time for me. I have since worked really hard to have the connection severed psychically and energetically, using my Integrated Energy Therapy techniques. It was a real struggle for me, but it has been done successfully.
There's nothing quite so humbling as thinking you're completely over someone, then realizing you're not even close ~ Brian Strause
The lesson for me is this: just because there is a connection doesn't mean I have to pursue it. I need to really examine what I am doing here and use my intuition to discern if this is good for me, or not.
It took me a long time to realize I was the one paying the price for the so-called 'connection.' It has taken me a long time to recover from all the drama, trauma, and chaos this particular 'connection' created.
I am grateful for the lessons I have learned, but I will never, ever again subject myself to this type of relationship.  would rather be alone, than be with the wrong person. A life lesson well learned.

About The Author: Angelic Amy

Amy's two near death experiences (NDE's) pushed her natal psychic abilities into overdrive and her story is featured in a famous psychic medium's new book! She's experienced a rich life full of more ups and downs than most encounter in a lifetime, which has only helped her connect to her clients on a deeper level. Tapping into her clairvoyant, clairaudient and Mediumship abilities, Amy is a prominent radio show host, has appeared on other radio shows, and is a popular Tarot reader at Psychic Fairs and parties. This native New Yorker is an experienced energy healer, a Reiki Master, and channels gentle Angelic energies through an Integrated Energy Therapy Technique. It's an honor for Amy to help you in your time of need. If that time is now, you can find this gifted psychic at PsychicAccess.com.