Live A Vibrant Life!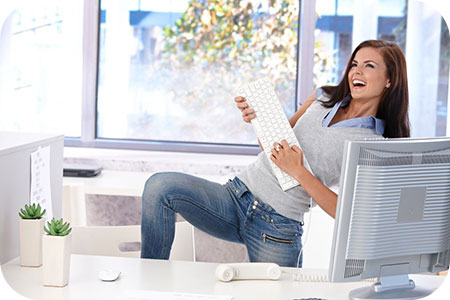 Focus on play and adventure in your daily life. As you tackle any tasks at hand, ask yourself how can I infuse this with fun? Simply smiling more changes the vibration and allows joy to shine brightly. Find a new lightheartedness in your step and your chores will become pleasures, as you focus on laughter and play.
To create adventure, excitement and enthusiasm in your life may be as simple as taking time to watch animals, or smiling as you pass people on the street, where before you would hurry with your head down. It might be stepping outside of your box and planning something with friends and family or maybe doing something delightful that you've always wanted to try.
You really can turn anything mundane into something full of life and vibrancy. It's your attitude that keeps joy from being a dominant force in your life. Once you indulge in the joy of life things not only become easier to accomplish, but it takes less time to get them done.
Remember, it is all about your perception of the reality that you have created for yourself. You are able to create a new reality at any moment simply through your choice. We are here to assist you, guiding you toward the best version of yourself.
Look to serve in all that you do, open your heart to joy. Smile even when you don't feel like it, as it allows you to keep your vibration high and when your vibration is strong, steady and secure you can feel us, your Spiritual Team. You can feel our love, our support, our guidance. It strengthens your connection with us.
Everyone wants to live on top of the mountain, but all the happiness and growth occurs while you're climbing it ~ Andy Rooney
Even if for a moment you experience this bliss that we talk many times of, that moment will multiply. That moment will continue to expand as you continue to choose higher thoughts and higher experiences.
The universe is supporting you in throwing caution to the wind and riding your dream. Rise up into this beautiful energy of light-heartedness, expansion and freedom. You are so much more than that. Take the first steps today to live your life on purpose instead of being pulled every which way in a myriad of directions. And have fun with your tasks with the things you need to complete in your life, abandon that sense of dread, frustration and lack of fulfillment.
Imagine you were living your dream right now? How would you feel? What adventures would you plan for yourself if you had the perfect mate, career, expression of yourself? Nothing is beyond belief. Remember, you live in a reality of possibilities. It is your own mind, your own self that stops you or blocks you from anything that you desire.
I am going to keep having fun every day I have left, because there is no other way of life. You just have to decide whether you are a Tigger or an Eeyore ~ Randy Pausch
Thank you for allowing us to come here today and assist you in creating the life that you desire and deserve. Remember you have a plethora of angels uplifting and inspiring you daily. Ask and be open to receive their guidance.
I am Metatron and I have spoken here this day.
*Adapted from a recent weekly energy report channeled from Archangel Metatron.
About The Author: Julie

Julie is a psychic Medium, healer, and spiritual educator from Wisconsin with a plethora of metaphysical credentials too long to list here. After her father's passing, almost eighteen years ago, she fully embraced her natural gifts as a psychic Medium and now works full-time helping others all across the globe with spiritual readings and teachings from the beyond. She is the host of two radio shows, the owner of her own healing business since 2007, and heads an online University for international soul development (HSU). Julie is a Channel for Archangel Metatron, delivering clear messages to clients that transform their lives. If you'd like to experience this highly qualified and gifted metaphysician for yourself, you can find Julie at PsychicAccess.com.