Trust The Divine Order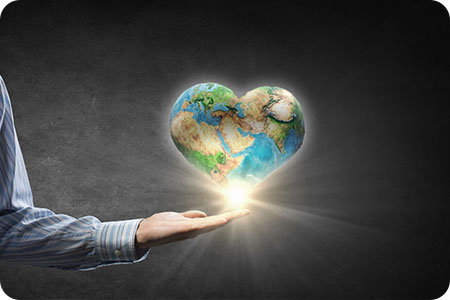 Have faith and trust in the Divine order of the Universe. As you let go of the fear in your head and stop feeding the 'monkeys' in your mind, miracles rise up all around you and the support you desire magically appears in the most unexpected of ways.
You are looked up to as a leader and called upon to stand strong and be a voice for the people, animals, and the Earth. Let go of your weakness and allow God to use you as an instrument of love and peace. When you do this you will find that others look up to you and seek you out for counsel and advice. You will also find that because of your willingness to let go and let God into your life you will be blessed with a financial windfall.
It may feel like things have been turned upside down as the energy continues to expand. The awakening of the planet is moving in perfect time, right on schedule. You are part of this 'force field of love.' As you open your heart and expand into new ways of thinking and doing oftentimes, it may feel uncomfortable at first. Let go of that fear of the unknown and allow yourself to ride that wave into new opportunities for as you hang onto your fear you become stuck, weighted down, heavy.
You have the power to create anew with every day that passes, with every breath you take. You are constantly choosing to live in that house of love, or the house of fear. Your default system as a human being tends to be that of fear so it takes more effort to move out of that vibration into your true essence of love. But as you continue exploring and surrendering it will become easy and natural. It will become more effortless.
Survival is for the human animal; fear the motivation. For the spiritual being survival is irrelevant. Curiosity, compassion and creativity are the name of the game; unconditional love the motivation ~ Peter Shepherd
Do not allow yourself to be run by that 'monkey mind,' that feeling of being scattered and disorganized. Sometimes your ego will keep you small as you get hung up in the details of how you are going to create the life that you desire or the experience that you want. You need only create that vision and hold true to that visual to begin to create the people, the prosperity, the connections that will make that happen. Focus on serving in your life. What can you do for others? That is the key to unleashing your own prosperity, your own path to abundance for when you align with God's will you open up a portal of magic and miracles.
When you try to steer the ship and go it alone, you eventually you get to where you are traveling, but oftentimes with many more challenges and frustrations. Remember you have a plethora of angels uplifting and inspiring you daily. Ask and be open to receive their guidance.
I am Metatron and I have spoken here this day.
*Adapted from a recent weekly energy report channeled from Archangel Metatron.
About The Author: Julie

Julie is a psychic Medium, healer, and spiritual educator from Wisconsin with a plethora of metaphysical credentials too long to list here. After her father's passing, almost eighteen years ago, she fully embraced her natural gifts as a psychic Medium and now works full-time helping others all across the globe with spiritual readings and teachings from the beyond. She is the host of two radio shows, the owner of her own healing business since 2007, and heads an online University for international soul development (HSU). Julie is a Channel for Archangel Metatron, delivering clear messages to clients that transform their lives. If you'd like to experience this highly qualified and gifted metaphysician for yourself, you can find Julie at PsychicAccess.com.