All Is Well Where There Is Gratitude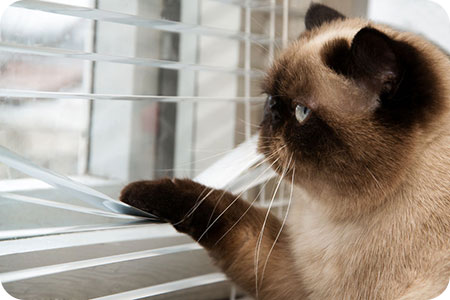 I was sitting at camp this morning, thinking of all the things I had on my schedule for the day and the upcoming week. I had somehow overbooked myself, yet again. Not even four sips into my coffee… and I already felt some stress rise up in my chest.
At that moment I heard a little 'purr-meow,' as my cat Oscar looked at me quizzically. He always helps me to put life into perspective. We all need that honest friend who will tell us like it is, and get us refocused on what really matters. Oscar was sitting on his perch by the window. As he shifted his gaze to me, I could hear him say, "Why so stressed mama? We're at camp and it's a beautiful day out. All is well."
Oscar and I communicate a lot. Although he doesn't speak in human words, he makes his feelings and emotions known to me quite easily. At times he picks up on my emotions faster than I do. This morning he was trying to figure out what was wrong with me. Looking at his big round eyes, all I could do was smile. He was right! It was a beautiful day out and I needed to experience it.
"You're right," I said out loud. I took another sip of coffee, got up from my chair and opened the front door. Talk about switching up my perspective in a matter of seconds!
As I opened the door, I felt the warm air through the screen. Oscar was immediately at my side. Nose to the screen we looked out together. It really was a beautiful day. The sun was already out and the sky was a beautiful periwinkle color. I could hear various types of birds chirping, as well as the back and forth chatter of chipmunks. I watched a big grey squirrel run up the road in front of us, Then a hummingbird buzzed in and sat on the feeder, sipping nectar, while peeking over at us, from just two feet away. The gentle sound of water from my outdoor fountain and the melody of the wind chimes brought it all together.
I would maintain that thanks are the highest form of thought, and that gratitude is happiness doubled by wonder ~ Gilbert K. Chesterton
I looked down at Oscar and he did another one of his famous 'purr-meow' sounds. I stood there for a few moments, feeling absolutely nothing but complete peace. I was filled with gratitude that I was able to enjoy this little snapshot of what I always imagine Heaven to be like. What the heck had I been so stressed about anyway? In this moment I reminded myself that sometimes we need to take a break to shift our perspective. As I said, I can always count on Oscar to help me refocus.
As I stood in the doorway, still listening to the beautiful sounds of nature, my mood changed. I wasn't 'overbooked,' I was abundantly busy doing the work I loved! I took a moment to give thanks.
I have found that no matter how stressed, worried, or upset I am, I can always shift my perspective with gratitude. When we put our fears, angers and stressors to the side and only focus on gratitude we are able to quickly balance the emotional scales, bringing a sense of peace, a sense of knowing that indeed… all is well.
Gratitude is the healthiest of all human emotions. The more you express gratitude for what you have, the more likely you will have even more to express gratitude for ~ Zig Ziglar
I invite you to do the same when you are having a bad day or feeling stressed. Jot down a daily 'grateful list.' Take a moment to identify a few things that you are grateful for. Write down what it is, and why you are thankful for it. For example, I am grateful for my little summer cottage. I can sit in my living room and watch the various birds come to the feeders that are on my porch. For the second year in a row a robin has built her nest just a few feet from my front door, so I get to watch the growth of her babies daily. It makes my heart happy to know they are comfortable being so close to me.
Just now I heard a barred owl join in with his calls, adding a completely different sound to my outdoor bird symphony. I usually only hear them at night, so this is a treat. Yet another thing to be thankful for, as he adds his verbal blessing to the wisdom being shared.
I hope you will try writing out your daily grateful list. I often find the more things I write down, the happier I feel. I trust you will experience the same thing.

About The Author: Angie

Angie is an accomplished Medium, Intuitive and Empath, speaking with Angels, Spirit Guides and those who've crossed over. She's situated in the New England area, and has been providing highly accurate readings for her clients for over twenty-five years, and is sought after for psychic parties and dinners. What makes her particularly fascinating is her unique talent with Art Mediumship, in which she combines drawings and messages. She's trained with many mentors locally and internationally, and has connected with exactly the right teachers at just the right time. Angie is also a teacher, offering Spiritual Gift and Mediumship Development classes, and she is Certified in Akashic Records and Pranic Healing. If you'd like to be introduced to your best spiritual self, while receiving detailed answers from a gifted and compassionate Card Reader and Medium, you can find Angie at PsychicAccess.com.