Are Romantic Relationships Meant To Last Forever?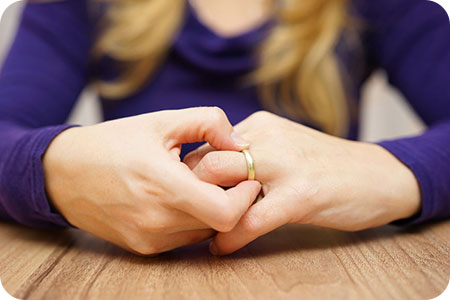 Will my relationship last forever? Will I be married? Are we meant to be together in this lifetime? These are the kind of question I often get when I am doing a relationship psychic reading.
In my family everyone stayed married forever. Divorce was not acceptable. I was the first of my siblings to get a divorce and was shunned because of my choice. My parents stayed married for nearly forty years, until my father's death. Their marriage was an experiment in terror, as I use to observe how miserable they were staying together. I used to joke with them that they were the poster children as to why I should not get married! My two siblings also tied the knot, only to find themselves in unhappy marriages.
It was these 'fine examples' of relationships besides my own trials and tribulations in my own life, that made me wonder if relationships were to last forever, or only for a specific amount of time? I was so anti-marriage at one point, my family thought I would never marry. Marry I did, many years later, and subsequently got divorced.
When I asked my guides about my concerns, this is what I have been told over and over again: relationships are meant to be here for a certain period of time only. There are certain romantic relationships where you date for many, many years and then move on. Then there are those relationships where you marry for a certain period of time, and then move on. The rare relationships are the ones that last a lifetime. They could wind up in marriage, or living together in a domestic partnership.  The point being, we all need to learn lessons from other individuals and a relationship, especially a romantic one, is the best way to learn those lessons.
Relationships are laboratories of the spirit. They are hospitals of the soul. They are the places where the wounds that we hold will be brought up because that's the only way they can be healed ~ Marianne Williamson
I had to disabuse myself of the notion that relationships last forever. I believe relationships bring up the wounding from our childhoods in order for those issues to heal. Sometimes we have to go through a very painful relationship in order to learn from it. In my experience, relationships are experimental in nature.  I feel I have learned so much from my relationships especially the romantic ones.
So many of us settle for relationships that make us feel unhappy, unfulfilled and unloved. I feel we need to figure out what we are seeking from a romantic partner and then give it to ourselves. There is no point in looking outside yourself, as you will most likely be disappointed, frustrated, and disillusioned.
On the other hand, if you can take what you have learned from those failed relationships and use them for the good of yourself, then there is nothing stopping you from having the partnership you desire. It is the negative experiences teaching us what we do and don't want. The aim should be to implement those lessons into a relationship you truly desire and feel could be right one.

About The Author: Angelic Amy

Amy's two near death experiences (NDE's) pushed her natal psychic abilities into overdrive and her story is featured in a famous psychic medium's new book! She's experienced a rich life full of more ups and downs than most encounter in a lifetime, which has only helped her connect to her clients on a deeper level. Tapping into her clairvoyant, clairaudient and Mediumship abilities, Amy is a prominent radio show host, has appeared on other radio shows, and is a popular Tarot reader at Psychic Fairs and parties. This native New Yorker is an experienced energy healer, a Reiki Master, and channels gentle Angelic energies through an Integrated Energy Therapy Technique. It's an honor for Amy to help you in your time of need. If that time is now, you can find this gifted psychic at PsychicAccess.com.