Seasonal Spiritual Cleaning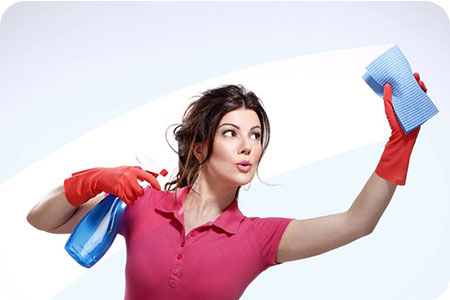 Summer is now fast approaching and I know it's time to get my rubber gloves, dusting cloths and all purpose cleaner out for another good 'spring cleaning.' A few weeks back I had to do the whole deep cleaning thing around our cottage, as we opened it up for the summer season. And it wasn't that long ago that I found myself doing a proper spring cleaning around my house. I actually like to do a 'spring cleaning' every few months, usually with the changing of every season.
During the spring cleaning at the house, I was moving furniture, dusting, vacuuming up dust bunnies that were embarrassingly bulky, and clearing out cobwebs from spots on the ceiling. And that was just the living room! My cottage had been closed up all winter, so I understood the layers of undisturbed dust there, but I couldn't believe that it had only been a few months since my last deep clean at the house, yet somehow it now seemed to be covered with dust, dirt and cobwebs! Worse yet, I hadn't even really noticed how awful it really was.
How did my eyes just seem to overlook this mess that was accumulating in my house? I'm certainly not blind, but it was all too comfortable and easy to overlook. My eyes became so accustomed to the dust on the television stand, that I literally stopped seeing it? It's interesting, because I often see the same thing happen to us spiritually.
How often do we decide we are going to 'spring clean' our thought patterns, behaviors, habits, relationships? Do we not also become comfortable or lackadaisical and just 'let things go' in our spiritual and personal lives? Maybe we don't want to deal with the fact that we are letting someone treat us poorly.  Or maybe we avoid the work involved with addressing a harmful behavior of our own.
Spring cleaning, while worth the effort, will only last for a season, but spiritual cleansing could have an eternal influence. So don't just dust behind those bookshelves ~ Mary Fairchild
Perhaps we once took time daily to spend a few minutes in peace, solitude or meditation, while we now find ourselves ragged by the evening… only to fall in bed and wake up the next morning, late for work and with a headache from our stress… angry that we can't seem to carve even 5 minutes out for ourselves anymore. We may dismiss the 'dust, dirt and cobwebs' in our lives, until they become so blatantly obvious that we feel helpless or hopeless.
If you find yourself in this situation, it might be a good time to stop what you are doing right now, and schedule your own seasonal spiritual cleaning on your to-do list or calendar. Make some time for a seasonal spiritual assessment to cleanse and re-balance the mind, body and spirit. I am a firm believer that we need to periodically take an assessment of our lives and situations. It's part of our personal growth and spiritual  evolution, and a way to stay on track to reach our goals.
The change of the seasons is a perfect time to assess and clean. Check in with yourself and be honest about who and what in your life is feeding your soul and your spiritual growth… and what is not. Make a vow to do some heavy spiritual dusting of your soul. Create a plan to diminish or eliminate the behaviors and habits that are hurting you.  Set boundaries within your relationships so there is equal give and take, and cut or limit the ties with people who cause you emotional pain.
As this light shines on us, we have the perfect opportunity to see exactly what is mucking things up, cluttering our big visions, and holding us back from our goals… It's time to take the weight of the world off of your shoulders, get clear on your goals, stop playing small, and shine! ~ Logan Kinney
Just as we clean out the dust bunnies and cobwebs from the real estate we live in, the same should go for the vessel and body our soul calls home. Also pay more attention to your lifestyle choices and what foods and substances you are putting into your body, and how they have made you feel for the past few months.
Summer is here. So get your calendar out and pick a date for your seasonal spiritual assessment and cleaning. And while you're at it… also schedule Autumn, Winter and next Spring. Heck, you might as well just put those four seasonal dates in your calendar as annually occurring events, with no end date. Once it's done, you will feel so much better!

About The Author: Angie

Angie is an accomplished Medium, Intuitive and Empath, speaking with Angels, Spirit Guides and those who've crossed over. She's situated in the New England area, and has been providing highly accurate readings for her clients for over twenty-five years, and is sought after for psychic parties and dinners. What makes her particularly fascinating is her unique talent with Art Mediumship, in which she combines drawings and messages. She's trained with many mentors locally and internationally, and has connected with exactly the right teachers at just the right time. Angie is also a teacher, offering Spiritual Gift and Mediumship Development classes, and she is Certified in Akashic Records and Pranic Healing. If you'd like to be introduced to your best spiritual self, while receiving detailed answers from a gifted and compassionate Card Reader and Medium, you can find Angie at PsychicAccess.com.