De-Stress To Live A Balanced Life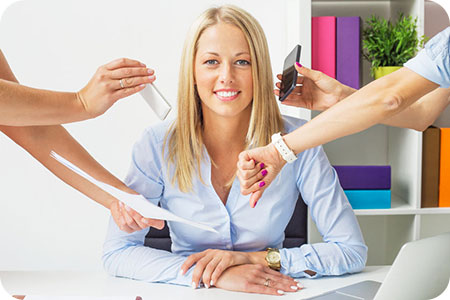 Everyone deals with some type of stress in their lives. Some people endure more than others, but it is really not about situations that occur in a person's life – rather their reaction to it.
It is important to reduce excessive stress in your life, and developing strategies to live a more balanced life, for many different reasons.
When people are less stressed they are more capable of making good decisions in their lives. A person's intuition is better when their stress levels are low, and it is important to feel balanced emotionally in order to live a happy life.
High levels of stress can also lead to physical problems in a person's life. Throughout the years of providing psychic readings to people all over the world, I am very sensitive to their energy. With many of the people I have done readings for over the years, the person's stress level in different areas of their lives can come through very strongly. When a person has a lot of stressful energy around them, it can block out positive energy from coming into your life.
It is important to learn to de-stress oneself and to visualize the balanced life you want to live for yourself. Energy attracts energy, so if you are focusing on the negative in your life, it will only attract more negativity. Instead focus on the positive to bring more positivity into your life.
There are many different helpful strategies a person can begin to practice in their everyday life that will lead to a less stressful life, and a more peaceful energy around them. One is to take time every day doing something you are passionate about. It doesn't have to be for a long period of time, but just taking an hour to do something you love doing every day will begin to allow you to focus on positive things, and your stress level will begin to drop quickly.
When I look back on all these worries, I remember the story of the old man who said on his deathbed that he had had a lot of trouble in his life, most of which had never happened ~ Winston Churchill
It is also important to let go of things you do not have control over. Do not spend valuable time being stressed over a situation that you cannot control, but rather take control of your own feelings and focus that energy on something positive.
Frequent physical activity is also an important way to have less stress. The body and the mind both need care and balance. Getting enough sleep is another important factor in dealing with stress. When a person does not get the right amount of sleep they are less able to function as they normally would, and things can feel more stressful when you are run down physically and emotionally. When people are under a lot of stress they tend to either overeat or not eat enough. This will only make dealing with stress worse. It is important to stay physically healthy and balanced as well as emotionally healthy.
Stress can cause many problems in a person's life and can lead to a cycle of more stress over time. By taking care of yourself and having less stress in your life, you will experience greater happiness and success.
About The Author: Summer

Summer resides on the East Coast and is a skilled Energy Worker, Tarot Reader and Counselor with a Master's Degree in Psychology. Over the last ten years, her compassionate approach has empowered many clients to overcome difficult life situations. Her clear Intuitive answers, coupled with her counseling credentials, make her the ideal practitioner that her clients return to for advice. She specializes in the areas of love, career and relationships, and clients testify on how accurate her predicted timelines have been. Many also report on relationships that have been restored, thanks to her sage advice. If you'd like to relieve anxiety, find answers and know what the future holds for you on any situation, you can find Summer at PsychicAccess.com.