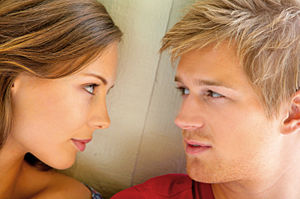 Most of us have, at special times in our lives, met someone that we sense we have known before, even though we have never met the person in this lifetime.
You're in the park, minding your own business. You look up and see the face of a person that you instantly recognize, and feel very familiar with. Many times you know by their reaction that the feeling is mutual.
This is known as 'soul recognition' and it is a phenomenon that has been occurring since time began. It's actually the recognition of the memory of your own past lifetime experiences and emotions that were experienced in those lifetimes. These memories are also carried within the spirit-body energies of the other person.
Our soulmates seldom appeal to our personality – our ego. That's why they are called soulmates rather than egomates ~ Carolyn Miller
We were together with these people in other lifetimes, perhaps as partners, friends or children. We had experiences with them that left energy 'markers' in our spiritual memories. We have incarnated with them many times and usually have come to love and cherish them on the spirit level.
Recognition of this other soul is sometimes the beginning of a long, beautiful relationship. You know each other so well, that you feel very much at home with them.  You come together, stay together, raise the children you have together and then pass gently into the next lifetime.
This scenario is most people's ideal, but our spiritual evolvement usually gets more complex than that. Many times we will come together for a period of time to accomplish a definite purpose or help each other learn an important lesson.  Then we separate; only to come together again in a future lifetime.
Spiritual partnership implies a goal of encouraging and supporting the unfolding of each other's soul's reasons for being here in the first place ~ Katherine Woodward Thomas
It can be upsetting, especially the separation, but is all important to our spiritual growth. Sometimes it may not be 'in the stars' to have a relationship with them at all during this lifetime.  It can just be a deeply loved soul, stopping by to smile and say: "Hello, I love you and I will see you next time."
Some souls may strongly attract each other, because they have negative issues to work out. You may be strongly attracted to someone and don't know why. You think you are deeply in love and feel strongly connected, and this person may feel the same way about you.
But the two of you soon discover you really don't get along at all. Your communication is off, and you bicker quite a bit. One or both of you may hurt each other a lot and may continue to do so. You may be continuing issues of bondage, neglect or abuse from past lifetimes.
People think a soul mate is your perfect fit, and that's what everyone wants. But a true soul mate is a mirror, the person who shows you everything that is holding you back, the person who brings you to your own attention so you can change your life ~ Elizabeth Gilbert
Despite all this, you find it just about impossible to leave this person. The attraction is just too strong no matter what the two of you are doing to each other.
This strange attraction will continue until one or both of you becomes aware you have deeply rooted issues from past lives. It will remain with you until one or both of you let go and unconditionally love and forgive the other.
Once you have learned your lessons from each other, you may decide to go on your own way. Many times, once we have learned our lessons from these people, they will no longer be part of our lives. We can then wish them love and happiness from a distance.
Whichever way it works out, these 'soul agreements' are for our own spiritual development, which we have requested and designed for ourselves before we incarnated.
About The Author: Julia Marie started studying seriously with a Master Astrologer and Tarot Teacher after a near-death experience changed her life. She became a professional tarot reader and astrologer four years later. Julia Marie has been professionally consulting and teaching Astrology and Tarot for over 25 years. She currently enjoys her own full time practice in the Texas, Oklahoma and Arkansas area. Spirit and Spirit Guides actively channel the information to her which you need to live your life in love, abundance, peace and happiness. Her goal is to help those people that God places in her path. You can get a psychic reading from Julia Marie at PsychicAccess.com.


One Response to "Soul Recognition"