You Are Amazing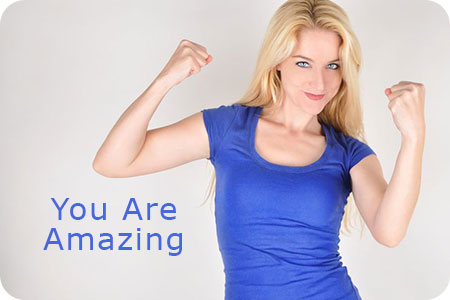 You are powerless when you worry about pleasing other people, but when you focus on being an amazing person and creating an amazing life then you become powerful. As you gain a foothold on who you truly are and how you wish to present yourself to the world other people begin to recognize and respect you in new ways. Focus on the amazing person that you are.
Oftentimes we see you get caught up in other people's business, wondering and worrying what they are thinking and what they are saying. As you focus on those external things outside of yourself it steals your energy and renders you powerless. It makes you weak in your thinking and insecure in your being. There is very little value in focusing on obsessing over their influence.
Remember, everything is always unfolding perfectly. Let go of trying to control other people and other things outside your power of influence. Move into yourself where you have full and complete control over what you are thinking, what you are feeling, and what you are saying. Because at the end of the day, as you look at yourself in the mirror the only person you need to answer to is yourself en God.
Rise up into the magnificence that you are creating a beautiful purposeful life. As you align with the best version of yourself people will either begin to step into your life, or they will step out.
True belonging and self-worth are not goods; we don't negotiate their value with the world. The truth about who we are lives in our hearts. Our call to courage is to protect our wild heart against constant evaluation, especially our own. No one belongs here more than you ~ Brené Brown
Don't worry about external things that you cannot control. Focus upon internal things, that is where your power lies. As you align with your own Divine power, everything else in your life will begin to fall into place… people, places, experiences that will create your ultimate reality of love, of joy, of peace.
So, take a moment now to imagine letting those obsessive thoughts go and opening up to your power.
Remember you have a plethora of angels uplifting and inspiring you daily. Ask and be open to receive their guidance.
I am Metatron and I have spoken here this day.
*Adapted from a recent weekly energy report channeled from Archangel Metatron.
About The Author: Julie

Julie is a psychic Medium, healer, and spiritual educator from Wisconsin with a plethora of metaphysical credentials too long to list here. After her father's passing, almost eighteen years ago, she fully embraced her natural gifts as a psychic Medium and now works full-time helping others all across the globe with spiritual readings and teachings from the beyond. She is the host of two radio shows, the owner of her own healing business since 2007, and heads an online University for international soul development (HSU). Julie is a Channel for Archangel Metatron, delivering clear messages to clients that transform their lives. If you'd like to experience this highly qualified and gifted metaphysician for yourself, you can find Julie at PsychicAccess.com.