Is That Your Intuition Speaking?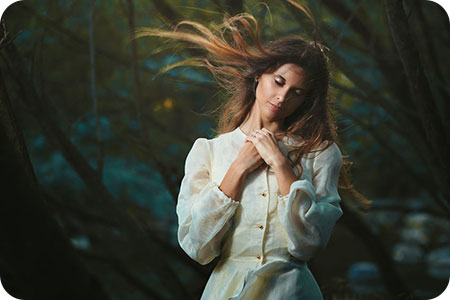 Do you sometimes sense your thoughts are more than just thoughts? Do you sometimes hear your thoughts? Do you feel your thoughts? Do you know when it's your intuition speaking? How do you know the difference between intuition and thinking thoughts?
There are many questions to be asked in order to understand and to allow yourself to become comfortable relating to and relying on that higher part of your consciousness. Your intuition is sometimes referred to as your 'higher self' – the all-knowing part of you.
The best way to understand and integrate your intuition into your daily thoughts and understanding of life, is to look back and observe yourself. We all use our intuition every day of our lives. Think about it. More often than not, when you make a decision, you are basing your decision on how you feel about the situation. Look back and see how many of the following questions fit into your life.
Have you known about future events before they happened?
Did you sense things going on with other people before they materialize?
Did you get information through physical sensations?
Did you feel physical sensations when you made a bad decision?
Have you felt physical sensations when you made a good decision?
Have you had an awareness that your intuition was speaking to you?
Do you sometimes get hunches about things that come to pass?
Have you checked in with your intuition when you wanted to know the answer to something?
Don't try to comprehend with your mind. Your minds are very limited. Use your intuition ~ Madeleine L'Engle
All these things that you might dwell on, are proof that your intuition is at work for you. You are aware of it, or not, but your intuition is always speaking to you. Maybe you should be listening more often and more keenly? Here are some things you can do to be more aware and make better use of this wonderful misunderstood sense – your sixth sense. Remember that you may get the answers from a variety of sources, including feelings, words, images, smell, taste and other body sensations.
Keep your inner thoughts open to what your intuition is telling you as you go about your daily endeavors. Keep checking in on it.
Ask your intuition questions like: "What shall I do here?" and "What do I need to know now?"
Take action based on information you receive. Your intuition wants to help you.
Ask your intuition to help you understand situations.
If it doesn't feel right, don't do it.
Write down information that you receive. Check back to see how accurate your intuition has been.
Your intuition is there to guide you and help you move safely forward on your life's path. Trust it!
Intuition is a spiritual faculty and does not explain, but simply points the way ~ Florence Scovel Shinn
You know your intuition is speaking to you when you feel inspired and excited. This could happen after watching an inspiring video or movie. Things other people say can help direct your thoughts and jump-start your intuition, so you can achieve what you desire.
Learning how to listen to your intuition takes time. Your ego often gets in the way. Listen to your heart song. Always try to guide with your heart. The more you listen, the better it gets and the happier you'll be about the choices you make. Your intuition is always there for you. You just need to reach out and then listen.

About The Author: Tommy

Tommy has worked as a Spiritualist Medium in New England for over two decades and has served on many boards of spiritualist churches. He's an Energy Worker and Medium of uncommon ability who has trained with the best Mediums in the country. He's helped clients from all over the world receive detailed messages from Spirit Guides and loved ones in Spirit. His information is not only accurate but fast, which is something that clients truly value in the fast-paced world we live in today. If you'd like someone who can tap into your energy, tune into your higher self, and deliver all the answers you seek, you can find Tommy at PsychicAccess.com.