Freedom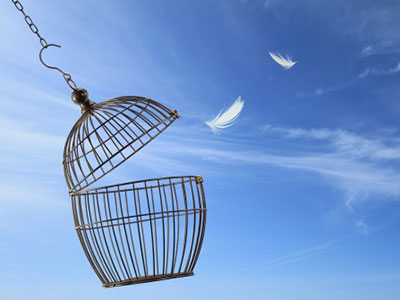 Imagine yourself in a cage. Imagine that confinement, the boredom, the hopelessness, the feeling of being trapped or smothered. Restricted and confined. Now imagine you have magical powers and abilities. You hold the key to this cage and you use that key now.
Unlock the door, open the window. Remove the chains that are binding you. Release any feelings of being stuck, trapped, overwhelmed. Create a space in your life that allows you the freedom to be who you are.
You are a bird. Imagine stepping out of that cage and flying freely. Soaring in the sky.
Feel the love, the expansiveness, the unending infinite possibilities that are before you. Love is what you've come here to experience. Love is your Divine life mission.
I am no bird; and no net ensnares me: I am a free human being with an independent will ~ Charlotte Bronte
You have the ability to change anything in your life that you do not like. The power is yours.
It is your perception that is keeping you small or holding you back. It is the thoughts within your mind that are creating the illusion of being trapped in your life, or not being able to change – whether it's a relationship you are ready to leave, or a career you desire to embark on.
You hold the key. The power is yours. Do not allow the thoughts in your mind to dictate what you are able to do and what you are able to achieve. Create a space in your life where you feel total, absolute freedom and control.
If you are not ready to take the leap toward freedom, again begin where you are. With one small baby step begin to move in the direction of all that you desire. As you begin, so too the Universe begins to unveil and unleash many, many miracles in your life.
You do not need to see the big picture. You only need to take the first step toward creating freedom in your life.
There's no greater freedom than the freedom to be yourself. Give yourself that gift, and choose to surround yourself with those who appreciate you exactly as you truly are ~ Doe Zantamata
Remember you have a plethora of angels uplifting and inspiring you daily. Ask and be open to receive their guidance.
I am Metatron and I have spoken here this day.
*Adapted from a recent weekly energy report channeled from Archangel Metatron.
About The Author: Julie

Julie is a psychic Medium, healer, and spiritual educator from Wisconsin with a plethora of metaphysical credentials too long to list here. After her father's passing, almost eighteen years ago, she fully embraced her natural gifts as a psychic Medium and now works full-time helping others all across the globe with spiritual readings and teachings from the beyond. She is the host of two radio shows, the owner of her own healing business since 2007, and heads an online University for international soul development (HSU). Julie is a Channel for Archangel Metatron, delivering clear messages to clients that transform their lives. If you'd like to experience this highly qualified and gifted metaphysician for yourself, you can find Julie at PsychicAccess.com.