Pay Attention To The Signs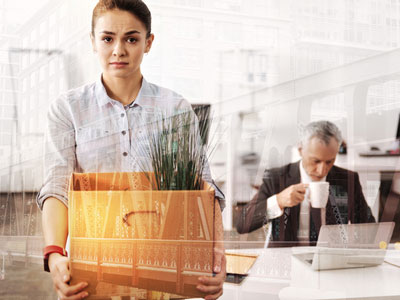 A caller recently asked me if she should start her own business. I did the reading and saw her chances were excellent for success in the next three years. I remember a time when I had asked the same question from other spiritual advisors and was not encouraged to do so. It took me back to the time I started doing readings professionally almost 20 years ago!
I always doubted I could make it full-time as a professional psychic. I felt I needed a full-time job in the secular world, as opposed to just trusting the Universe. Of course, the Universe, as it always does, hit me upside the head with a spiritual two-by-four!
I always had this feeling of push-and-pull from the Universe, whenever I questioned whether I should just take the plunge and start my own spiritual business. It took me almost ten years to get there, when I was finally pushed to do the psychic work full-time.
So often people are working hard at the wrong thing. Working on the right thing is probably more important than working hard ~ Caterina Fake
Initially, I had made a bargain with Spirit to give me a year at this highly prestigious law firm, working as a paralegal. Meanwhile, I also started working part-time on a psychic network, which I had always wanted to do and finally had the opportunity.
The year started off great with the law firm. I was 'moving on up' so to speak, and enjoying the workload. Unfortunately, I then started working for an associate attorney who was a punk kid, who was also into drugs. I would never know if he would walk in the office in a good mood, or a foul temper. Soon I started coming into work on pins and needles.
On the other side of the coin, the psychic line I had been working on was doing very well for me. Looking back, I should have taken that as a clue to leave the law firm and just work the psychic line full time. Of course, I didn't do that and it got worse and worse for me working at the law firm as time went on that year.
Well, you can probably guess the rest of the story. I got fired from the law firm within nine months of starting there. I was so scared I couldn't move. But I had signs from the Universe I wasn't going to last there much longer, before I was let go.
Once I conquered my fears of working at my own business, things started to fall into place. In fact, I was a lot happier and content working on my own, without a moody associate attorney breathing down my neck. I also felt a freedom I had never experienced before. I made my own hours and schedule.
Twenty years from now, you will be more disappointed by the things that you didn't do than by the ones you did do. So throw off the bowlines. Sail away from the safe harbor. Catch the trade winds in your sails. Explore. Dream. Discover ~ Mark Twain
I learned so much about myself during the first year working on my own. I learned the Universe had my back. I felt more at peace. I was able to work on myself and have time for myself, without being pulled into two different directions.
It is funny, we receive signs from the Universe all the time. What is the Universe trying to tell you? Is it time for you to start your own business, doing something you absolutely love. Are you feeling stuck in a dead-end job?
We make choices every day. What is the Universe showing you?  If you don't pay attention to the signs, the Universe in one way or another will get your attention. Take it from me, it is better to pay attention now rather than later.

About The Author: Angelic Amy

Amy's two near death experiences (NDE's) pushed her natal psychic abilities into overdrive and her story is featured in a famous psychic medium's new book! She's experienced a rich life full of more ups and downs than most encounter in a lifetime, which has only helped her connect to her clients on a deeper level. Tapping into her clairvoyant, clairaudient and Mediumship abilities, Amy is a prominent radio show host, has appeared on other radio shows, and is a popular Tarot reader at Psychic Fairs and parties. This native New Yorker is an experienced energy healer, a Reiki Master, and channels gentle Angelic energies through an Integrated Energy Therapy Technique. It's an honor for Amy to help you in your time of need. If that time is now, you can find this gifted psychic at PsychicAccess.com.