The Angels And The Hurricane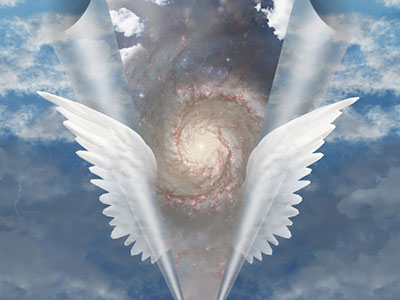 I have always had an affinity with the angels. I believe they are our helpers, protectors, and friends, and I do feel they are always around us, no matter what we may be going through. My recent experiences with Hurricane Irma further strengthened my faith in the angels and the guidance of the Universe.
At the time, the media went wild with the news coverage of Irma hitting the state of Florida. I became almost obsessed with following its progress, as the meteorologists tried to predict its current path.
Every day the hurricane's trajectory changed, little by little. First it was on the East Coast of the peninsula, which is usually the case. But then, as the week proceeded, its trajectory was the West Coast. I happen to live on the Gulf side of the state, and my nerves and anxiety grew worse, and worse.
In the arms of an angel fly away from here. From this dark cold hotel room and the endlessness that you fear. You are pulled from the wreckage of your silent reverie. You're in the arms of the angel. May you find some comfort there ~ Sarah Mclachlan
The Governor eventually ordered a mandatory evacuation, something unheard of in modern day history. Earlier that week, I had already made a hotel reservation in Georgia for me and the cats. There was no way I was going to chance it staying home. The county I live in did the mandatory evacuation by Friday morning.
My nerves were shot as the date of the hurricane's impending impact drew closer and closer. Earlier that week, a bunch of us healers gathered online and on Skype, to use the energy techniques we had learned to lessen the hurricane's severity. We sent this horrific hurricane healing energy to its eye, which is its brain center.
I followed my intuition and left early on Saturday morning. No one was out on the road, as most people had already evacuated on Friday. The highways, however, were a mad house! But the cats and I made it up to Georgia waiting for its arrival.
It is amazing when you mention to others you are going to do this, or that. When I had mentioned I was going to stay up in Georgia, some well-meaning friends advised against it. Once again, my intuition kicked in, and I felt I had made the right choice for myself and my fur babies.
Saturday night arrived. I was extremely anxious. I kept in contact with my friends in Florida, who had decided to stay behind despite being told to evacuate. I went to sleep praying everything would be okay. I received a text from a friend who told me the lights flickered on and off for a moment, and there were high force winds.
The dreams which reveal the supernatural are promises and messages that God sends us directly: they are nothing but His angels, His ministering spirits, who usually appear to us when we are in a great predicament ~ Paracelsus
Finally, the morning after, the storm had passed and the impact of the winds were not as bad as the media had projected. I felt relieved and scared at the same time. The authorities advised to stay where we were until Monday or Tuesday.
Those well-meaning friends said Georgia would get hit too, which in the end wasn't the case. Georgia only received some tropical winds and rains. Those 'doomers and gloomers' were no match for the angels after all. The angels were there to guide me, protect me, and support me.
I arrived home with no damage to my home. There was only some debris in the backyard, which I cleaned up. Even the electricity was on. Once again, the angels were there!

About The Author: Angelic Amy

Amy's two near death experiences (NDE's) pushed her natal psychic abilities into overdrive and her story is featured in a famous psychic medium's new book! She's experienced a rich life full of more ups and downs than most encounter in a lifetime, which has only helped her connect to her clients on a deeper level. Tapping into her clairvoyant, clairaudient and Mediumship abilities, Amy is a prominent radio show host, has appeared on other radio shows, and is a popular Tarot reader at Psychic Fairs and parties. This native New Yorker is an experienced energy healer, a Reiki Master, and channels gentle Angelic energies through an Integrated Energy Therapy Technique. It's an honor for Amy to help you in your time of need. If that time is now, you can find this gifted psychic at PsychicAccess.com.