Divining Answers From The Runes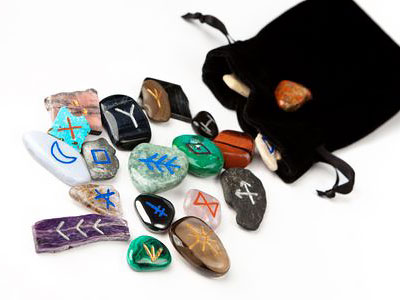 The recent holiday season has been one of the busiest and coldest I've ever experienced. But I loved the colder weather, and it snowed here this winter, a rare occasion in my part of the country. The holidays are normally more or less quiet at my house, but this year, ever since Thanksgiving, I have found myself working extra hours and looking forward to endless rounds of cooking, cleaning, decorating, gift-exchanging, partying, and entertaining.
Family and friends were very much in my life this year, from out of town, new additions, folks whom I have not seen in a long time, all manner of extended family – all wanting to see me or at least call me this year. Blaming it on the Mercury Retrograde, but at the same time feeling happy and blessed, I threw myself into the spirit of the holiday season.
In some ways, the Witch's Runes were a groundbreaking introduction to the concept of abstract symbolism itself for me ~ Alexandra Chauran
Amidst everything going, some people eventually also asked me to do a reading for them. This soon led me to think of ways to save time, to give quick answers, without giving up on quality. So, I turned to doing rune readings for them, while promising to give more detailed readings later.
Runes offer quick and accurate answers. I often use them to clarify my Tarot spreads, or whenever I am puzzled by a psychic vision, dream, or Tarot spread. I love how they do not pick up the energy of others and that they seem to focus on the querent entirely. They are great at telling whether a situation is a passing, temporary or permanent issue, They also tell how fast a situation will change, and are great at revealing whether there is nothing we can do at all, when it is up to the gods to decide what will happen.
Unlike the richly detailed pictures of the Tarot, which leads to much speculation, the Runes answers are clear and concise. Like other methods of divination, they work by connecting to our unconscious mind and the energies of the universe, to bring the answers to our questions.
Normally, for a quick reading, I pull three Runes, and then one more for the outcome answer of the question. Using my quartz crystal Runes, I spread them on a silk cloth, choose the ones that turn upright, and carefully interpreted the answers for my querent. There are 24 Runes and each one has a unique meaning. Like the Tarot, they are read upright and reversed.
Always remember the answers come not from the rock, the teacup, the shell, or the cards. The answers come from you ~ Gwendolyn Womack
The Runes are thousands of years old. They were once the alphabet used by the ancient Germans, Anglo-Saxons, an Scandinavians, and formed the basis of their philosophical and magical system. The medieval church banned them sometime in the 17th century, but their use survived, especially in Great Britain. Today, they are used by metaphysicians and psychics all over the world.
I invite you to contact me for a Rune reading and if you have time for further clarification, to combine it with a Tarot and clairvoyance reading. But if you only have a brief time and need several answers, the Runes may be a great choice for your serious questions. However, like the Tarot, the Runes can also be used for very detailed life questions and complex readings about your past, present, future.
About The Author: Lelia Star

A single mom, fashion designer, fitness trainer, and a natural born Intuitive, Leila lives a full and rewarding life in Texas. Her psychic practice includes a growing clientele that includes several famous celebrities. She's mastered many metaphysical tools, including: Tarot, Runes and Astrology, and has been using her natural Clairvoyant, Clairaudient and Clairsentient gifts for more than thirty years, gifts that go back at least three generations. She can easily tune-in to a client's energy, addressing their most urgent issues and needs. She's always been a strong advocate for women, helping her clients to feel good about themselves, on the inside as well as the outside. Not only is Leila still very active in the Goddess community, but she's a gifted mystic who can communicate with loved ones, interpret your dreams, perform guided meditations and accurately communicate your astrological path. If you'd like clear insights on your past, present and future that will help you embrace your most confident self, you can find Leila at PsychicAccess.com.