Living In Gratitude Ends The Suffering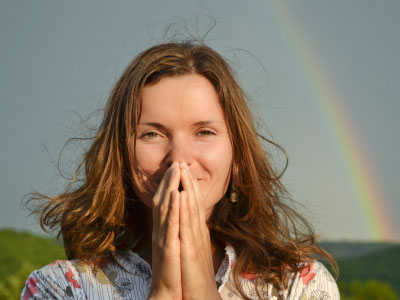 Have you ever argued with God? I have. A lot. If you also have, did you also discover that it is an exercise in futility? Yes, I have found that out. But does that mean that I am now less of the resistant, petulant child that I sometimes become? No, I still argue with God.
Here's the thing. I commune with God and Spirit every day, all day. And if not God and Spirit, then spiritual entities closely aligned with God and Spirit. I am convinced the more you know, the more you are held accountable for – in every way.
Most people have questioned whether there is a higher power. And if there is, then why is there so much illness and suffering in the world? Why is there death? Well, you see, God and Spirit views suffering, illness and especially death in a much different light than we do. Every bit of suffering, illness and death is a building block for all creatures of the Earth and beyond, to use and ultimately triumph over.
Gratitude leads to greatness. It can literally turn what you have into more than enough, jobs into joy, chaos into order, uncertainty into clarity, and bring peace to an otherwise chaotic day ~ Marc Chernoff

Yes, that's right.
You see, we are pretty spoiled for the most part. We can make choices that will shape our experience as we walk life's path. Every day we are presented with varying scenarios. We might be presented with a horrible day. We might see a homeless person sitting outside the store we are entering. Our children may be completely off the track. How we respond to these scenarios shape our experience, for better or for worse.
We complain about our finances, and set out to manifest more money in our lives, but have you asked yourself: have I been a good steward of what I do have? Have I been thankful and generous with what I have? Sometimes I find the answer to that question is probably: not really. But typically it is just no, I have not – if we are honest with ourselves.
So, why would we think that we will be given more, if we are misusing what we already have? The Bible states that surely it is easier for a camel to pass through the eye of a needle, than it is for a rich man to enter into Heaven. I have learned that often people who have the least are willing to give the most. Why is that? Because they have learned their lesson in giving, and know what it is like to be without.
So, the lesson here is that arguments with God and Spirit will continue, every day, in many ways. I still will argue, because that is the way I am made, and I am very sure that it is expected of me. But, I also know, that surrender is the easiest way to happiness.
When we wake up each day and give honest thanks for every little moment we have, every little lesson we learn, no matter how small, every single person that enters our life, even for the briefest of moments, we truly will begin to live and truly become happy.
Does that mean that now we will never get sick, or that we will never be hurt, or that we will automatically become rich and famous? Not at all, but it does mean that we stop suffering, because what we perceive as lack, we suffer for. What we are afraid of, we suffer for. What relationships we think we deserve, we suffer for.
Having problems at work? Be grateful you have work. Be grateful you have challenges, and that life isn't boring. Be grateful that you can learn from these challenges. Be thankful they make you a stronger person ~ Leo Babauta
Just stop. Think about it.
If we open our eyes every morning, searching our mind for the things you can be thankful for, and go to bed being thankful for what we have learned or received that day, how could we continue to suffer? Even pain can be lessened with a thankful heart. Ask any cancer patient who has survived! Trust me, they are thankful. Ask any person who has overcome an addiction – they are thankful. Ask any homeless person who now has a place to be – they are thankful. Ask any child who has experienced abuse and has lived through it to move into a healthy, independent life – they are thankful.
And if they are not, then they should be. Because life is a gift and so are the lessons, both easy and difficult, that we learn each day. Even death, which has its own special place within us, ultimately brings joy and peace – if we look at it the way God and Spirit does. Next to our birth, it is the most important event of our life… and just as beautiful.
So, I beseech you, when you gather with your family, or go to that job you hate, or talk to the person you may not like, or have the same argument with your spouse day after day… find what you are thankful for. Even if it is just that you woke up this morning! It means you have received another chance to make a difference, not only in your life, but also in the lives of countless others.
When you are grateful, the constant struggle ceases, life slows and everything comes into focus. How do I know, you might ask? I just do, I will tell you with a sly smile, I just do.
About The Author: Rishi

Rishi is a fun-loving, talented reader in Florida, who began her career reading for church goers, friends and family, in 1992, using the natural intuitive abilities she first realized at age four! Her clients have included: politicians, lawyers, a famous composer and a crew member on CSI. She has studied the human psyche, earning multiple certifications in meditation training and yoga, she's mastered the Energy Body, and is always looking to increase her base of knowledge. Rishi started a meditation and mindfulness website for kids and teens and has mentored many budding psychics along the way. Her four Spirit Guides help her to tune-in to topics very quickly and you will receive a very full reading, packed with messages, from this remarkable, witty and highly accurate reader. You can find Rishi at PsychicAccess.com.