Black Panther – Symbolism And Meaning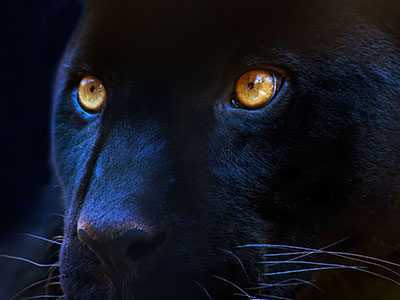 Black Panther has the gift of shape shifting. The Black Panther is a leopard or jaguar. Just as you must get close to a person with this animal for a totem, you must get very close to see the variations in color or spots of the Black Panther.
With people that carry this energy, it may be difficult to get close to them as they do not reveal much of themselves to others. They are loners and usually connect with other loners.
Panthers are swift and graceful. They move swiftly. People with this energy may make decisions quickly and they may have no trouble making spur of the moment choices. However, a panther can't maintain such swift speed.
The panther hears everything in the dark: the unspoken tears of a few hundred human years, storms that will break what has broken his world, a bluebird swaying on a branch a few miles away ~ Joy Harjo
As previously mentioned, Panther People are loners. This life is not a lonely life, but a choice they make to stay connected to their very intuitive side. They are sensitive psychically, as well with all things involving magic.
Panther People can be difficult to pin down. Often you must wait for them to find you. People with this totem have ties to the Moon and they hold the power of mysticism close. They feel safer in the shadows.
Panther People have plenty of wisdom and knowledge. You will find that this spirit animal removes all masks and they understand people at in-depth levels.
Spirit Animal
Black Panther often comes to those that need protection. They are smaller than tigers or lions, but they are much more fierce. Panther helps with our fears regarding things we don't understand. She has a 'protective bravery.' Panther helps us move through the shadows. She empowers us to change doubts into strength, so that in the end we are birthed into a new state of awareness.
Totem Animal
Those born with the energy of the Black Panther seem to have a natural understanding of the cycles of life. People with the Panther as totem are loners and seek other loners to connect for brief periods of time.
Panther People have deep running passions that are always asking for expression. This energy is part of their power. Panther People seek out release, but do not want commitment.
At times life calls for us to be silent. Sometimes being silent requires great strength. Panther People know when to hold their tongue. They rarely reveal too much of themselves at one time.
If she had not been alone, she would never have seen the panther or felt the hope it spread into the world like rings around the splash of a rock thrown into a still lake ~ Charles Frazier
Power Animal
Call upon the power of Black Panther when you need to see into the psychic realm. Panther is invaluable when seeing into the darkness, or when seeking intuitive wisdom. She helps us connect with the Moon energies and can help us to develop our psychic abilities. Panther also helps us to discover our personal truth.
For women in toxic relationships, Panther offers the courage to leave. The way of the female Panther is to mate with the male and then push him away. That is not to suggest that this might be a positive way for a female human to behave but, it might be useful when in a bad relationship.
In conclusion, the way of the Panther as it is traditionally seen by Native Americans offers a perfect summary. Tradition connects the Panther with leadership, hunting success, honor, strength, aggressiveness or assertiveness, fearlessness, clear seeing, instinct, and calculated movement.
SOURCE: Whatismyspiritanimal.com

About The Author: Mataya

Mataya's Light Readings are a gift from a higher source that she's worked hard to develop throughout her life. She understands more than most what it's like to struggle with emotional and physical roadblocks and with a Masters in Counseling, she has spent many years using her natural psychic gifts and acquired knowledge to see clients through difficult patches. Since 1988, she's professionally guided others, using Tarot and other divination tools, at various psychic fairs in California. She's worked one-on-one with clients in metaphysical shops, and enjoys a successful online practice. She's channeled energies from her guides and passed on accurate information to her clients. A true Sensitive, Mataya takes on the energy of others, feeling and sensing their challenges. Her name came to her out of the blue one day and she has since learned that Mataya mean's God's gift. If you'd like to experience Mataya's incredible gifts for yourself, try a reading with this compassionate and accurate reader. You can find Mataya at PsychicAccess.com.