Psychic Movie Visions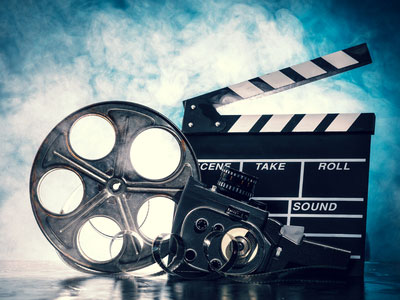 Tonight, when I looked outside, I noticed that clouds were swirling on the ground. Foggy nights are so beautiful and mysterious. The mists make everything look so silently soft and dream-like. It reminds me of the images I see in psychic visions. They play across my mind like short movies, in which I can see, hear, and even sense textures and scents.
Sometimes the visions are sharp, but most of the time they are in soft focus, yet I can see details. The visions come with understandings of situations that flash by in seconds. Sometimes, I see nothing at all, like through a very thick fog, I can only sense without seeing, what is there.
Cinema is a mirror by which we often see ourselves ~ Alejandro Gonzalez Inarritu
The night had me thinking dreamily about psychic phenomena and my mind wandered to some great movies in which a gifted psychic shows off his or her powers. With the producers' use of cool special effects, there are some great movies that quite accurately illustrate how a psychic 'sees.'
My top favorite is The Wizard of Oz. There is a scene during which the witch crouches over and gazes into her crystal ball, for a remote view of Dorothy and her friends on their way to Oz. That remote viewing scene is very similar to what I see when using my scrying mirror or crystal ball.
In the wildly popular TV series Vikings one of my favorite characters, The Seer, simply knows the answer most of the time, but he does close his eyes for bit occasionally and watches the images that come to him and then he translates them to his querent.
The documentary film Nostradamus shows the most famous and multi-gifted psychic of all at work. Nostradamus powerfully foretold events centuries into the future, using clairvoyant vision and Astrology, which he recorded by writing his famous quatrains. The documentary presented Nostradamus' visions like short movie scenes, during which he could see the most important moments when the incidents occur, rather than the events leading to them. Even though he did not understand many of the visions, he was able to accurately describe what they looked like, and he even saw spellings of names and places, as well as dates.
My favorite movie psychics of all time are portrayed in the movie Eve's Bayou. This fabulously beautiful and sophisticated film features two psychics. One is a Voodoo witch who works in the open markets of Louisiana. She is cantankerous and scary, but very accurate. She is one who simply knows the answers and can cast spells that work.
I think cinema, movies, and magic have always been closely associated. The very earliest people who made film were magicians ~ Francis Ford Coppola
The other psychic is a lovely widow, who was more spiritual in her approach to psychic reading. I love watching her, because she is the most like me in the way I read. She holds her clients' hands and listen to them intently, while they explain their situation and ask questions. She closes her eyes, focuses on the questions and situation, and watch the mind movies that explain the answers she translates to her clients. She can walk into any room and pick up on the energies there, unravel mysteries, and find lost objects. The way the scenes are presented in these films look very similar to experiencing the real thing!
I am sure there are many other great films with a psychic theme, but I do recommend you stay away from lurid horror films who grossly distort psychic phenomena. Watching good movies in this genre is an entertaining way to learn more about psychics, and I hope they inspire you to explore your own intuition, and to get a reading from a gifted person of second sight.
About The Author: Lelia Star

A single mom, fashion designer, fitness trainer, and a natural born Intuitive, Leila lives a full and rewarding life in Texas. Her psychic practice includes a growing clientele that includes several famous celebrities. She's mastered many metaphysical tools, including: Tarot, Runes and Astrology, and has been using her natural Clairvoyant, Clairaudient and Clairsentient gifts for more than thirty years, gifts that go back at least three generations. She can easily tune-in to a client's energy, addressing their most urgent issues and needs. She's always been a strong advocate for women, helping her clients to feel good about themselves, on the inside as well as the outside. Not only is Leila still very active in the Goddess community, but she's a gifted mystic who can communicate with loved ones, interpret your dreams, perform guided meditations and accurately communicate your astrological path. If you'd like clear insights on your past, present and future that will help you embrace your most confident self, you can find Leila at PsychicAccess.com.