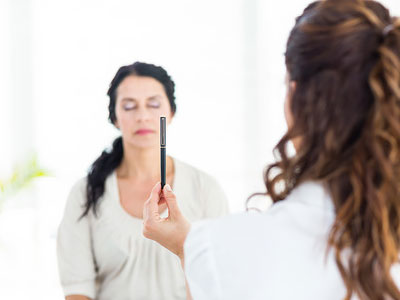 When it comes to our health and well-being, hypnotherapists are valuable caregivers who are always ready and available to serve us. They are like 'personal chefs' who help us by feeding our subconscious mind recipes for self-fulfillment.
Whatever it is that you wish to do in your life, your mind is the 'master blender.' First you must know what you want and then you need to convince yourself to consume it.
Change is not always easy and you need to continuously reinforce and nourish the thought, in order to achieve it. If you desire to be healthy, you must think healthy, positive thoughts. You must have a healthy attitude toward others, as well as yourself. You must talk positive, and not negative. You also need to forgive others, as well as yourself. Also, when you are in good company, good things happen. Surround yourself with good people and think good thoughts, for this is truly the good life.
The greatest discovery of my generation is that a human being can alter his life by altering his attitudes of mind ~ William James
Hypnosis is like feeding your mind the best Thanksgiving dinner, featuring the most desired recipes for each course and savoring each bite for utmost enjoyment. Hypnosis is a natural experience that happens to most of us each day when we become absorbed in doing something like driving, working, reading, watching television, or daydreaming. These are usually light hypnodial states we tend to fall into.
Hypnotherapy is a modality which allows the critical conscious mind to step aside and let the subconscious mind, which is where all memories, feelings and knowings are stored, to be influenced by new desires and understandings. The hypnotherapist feeds the subconscious mind ideas and suggestions designed to influence the situation, and the subconscious mind makes choices and installs new systems that fit the individual's desires and moral beliefs.
The individual is always in control and will only make changes that are truly desirous. The hypnotist does not create the change. The individual, by their own choice, is coached into making the change that they seek. Ideas that originate in one's mind are molded into positive suggestions for fulfilling desires and dreams, and to achieve goals.
Relaxation is often a key ingredient in a successful hypnosis session. The hypnotist assists the client to allow their body to relax into a state of euphoria, to such an extent that it resembles sleep if observed by an outsider, but it is not sleep. The mind becomes keenly aware of everything, but is capable of avoiding the distraction of normal mind-chatter, clutter and outside sounds, and to focus on and process thoughts and ideas for desired change.
In order to do this the hypnotist uses suggestions for relaxation, and also suggestions that allow the mind to bypass the conscious critical factor, which wants to protect the status quo and continue familiar habits.
Hypnosis is the epitome of mind-body medicine. It can enable the mind to tell the body how to react, and modify the messages that the body sends to the mind ~ New York Times
Hypnotherapists often work in complementary ways with physicians and other healthcare providers, to help optimize the treatment patients receive. Use of hypnotherapy for medical conditions should be approved by your doctor, and hypnotherapists will ask for a written consent from doctors and psychotherapists.
Hypnosis was approved for use by the British Medical Association in 1955 and by the American Medical Association in 1958. Even the Catholic Pope approved the use of hypnosis in the 1950's to be used in conjunction with medical and dental practice.

PsychicAccess.com.


Tommy has worked as a Spiritualist Medium in New England for over two decades and has served on many boards of spiritualist churches. He's an Energy Worker and Medium of uncommon ability who has trained with the best Mediums in the country. He's helped clients from all over the world receive detailed messages from Spirit Guides and loved ones in Spirit. His information is not only accurate but fast, which is something that clients truly value in the fast-paced world we live in today. If you'd like someone who can tap into your energy, tune into your higher self, and deliver all the answers you seek, you can find Tommy at