You Are Joy!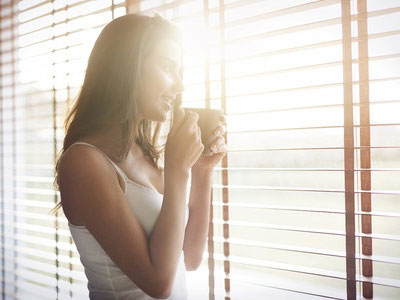 Imagine awakening in the morning, your heart light and open, your mind ready and willing to find play, to be play, to experience play.
Remember when you were a child and you couldn't wait for the new day to come, so that you could begin again exploring, learning, experiencing so many new and joyful things?
As you get out of bed and firmly plant your feet on the floor, feel the change in your energy. Instead of dreading the million and one things you are to do for today, choose to be joyous, free and excited to begin again.


Waking up this morning, I smile. Twenty four brand new hours are before me. I vow to live fully in each moment ~ Thich Nhat Hanh
As you move out of your bedroom and begin the day, take time to be with yourself before you present yourself to the world. Maybe sit for a moment sipping a cup of tea. Just take the time to be with yourself, even if only for a few minutes. Your soul will reward you throughout the day if you pause and take time to truly be with yourself in the morning.
Feel how softer your day begins as you open to receive the beautiful gifts that connecting with your soul first thing in the morning allows. As you sit with your soul, with God, imagine moving through your day and what you would like to experience. Be ready for Divine inspiration that arrives during this beautiful sacred meeting. Be sure to note that writing it down or tucking it away to follow-up with later, lest you forget.
Now imagine getting ready for your day. Your heart is filled with joy at the people that you will meet and the places you will go. Instead of feeling dread in going to work, dissolve that feeling and replace it with joy, with eager anticipation. Open to receive a new experience of an old routine. As you move into your work, imagine meeting your beautiful friends, your co-workers moving through your day with a light and grateful heart.
Closing the day and coming to an end, again spend a few moments with your soul, with God, reviewing the joyful experiences that you had, and the not so joyful experiences. Allow yourself fresh eyes to view everything, trusting always in the perfection of the Universe.
Morning is an important time of day, because how you spend your morning can often tell you what kind of day you are going to have ~ Lemony Snicket
You are joy. Allow this energy, this vibration to move into everything that you experience in this life on this planet.
Remember you have a plethora of angels uplifting and inspiring you daily. Ask and be open to receive their guidance.
I am Metatron and I have spoken here this day.
*Adapted from a recent weekly energy report channeled from Archangel Metatron.
About The Author: Julie

Julie is a psychic Medium, healer, and spiritual educator from Wisconsin with a plethora of metaphysical credentials too long to list here. After her father's passing, almost eighteen years ago, she fully embraced her natural gifts as a psychic Medium and now works full-time helping others all across the globe with spiritual readings and teachings from the beyond. She is the host of two radio shows, the owner of her own healing business since 2007, and heads an online University for international soul development (HSU). Julie is a Channel for Archangel Metatron, delivering clear messages to clients that transform their lives. If you'd like to experience this highly qualified and gifted metaphysician for yourself, you can find Julie at PsychicAccess.com.