Psychics Also Have To Rely On Luck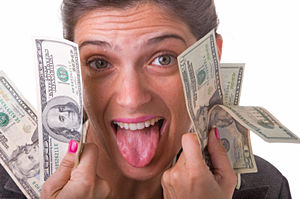 My husband and I sometimes go to Nevada to play cards and the slot machines, just to get away from the have-to-do's for a few hours.
Recently I started handing out business cards for my psychic reading services to some of the dealers and regulars I was getting to know.
Of course, I got teased at the table I was sitting at. I kept telling them that it doesn't work that way. I mean, once in a while I can tell you which color the next card will be, or I know when the dealer will go bust, but I can't read minds. When I win at cards it's because I pay attention to the other players and their body language. With Black Jack, it's all random and you only need to know statistics. However, my guides will let me know if it's time to go home, or not to go at all.
True luck consists not in holding the best of the cards at the table; luckiest is he who knows just when to rise and go home ~ John Hay
The gifts that the Universe and Goddess give us are not meant to be used to win in any competition, or to satisfy our 'ego trips', or even to be right about anything.
Psychic energy is fluid, and when used appropriately, it will continue to be useful and continue to expand. Over the years I have found runaway children and pets, I have helped to locate personal objects, and I've even delivered messages from beyond.
But I've never seen any lottery numbers, nor have my guides shown me what cards other players have in their hands. I believe that this does not happen because it's considered cheating, and therefore not allowed.
Those who have prospered and profited from life's lottery have a moral obligation to share their good fortune ~ Dick Gephardt
I feel that the Universe is abundant and we get what we need, as long as we are open to the possibilities. As long as the need is genuine, we only need to ask. Beyond that, psychics (even the famous ones) have to work to earn their money, just like the rest of the world.
Some of us have good luck charms. I have a piece of green jade on a pendant from my mother-in-law, as well as a bracelet from my daughter and my grandmother's wedding ring. They still have the energy from their original owners and I believe that if they're 'in the mood' and they know the intention is to take care of something, they will give me the help I need. Or maybe what they do is simply inspire me to pay better attention!
Also, I use manifestation exercises and positive visualization. In any case, my husband and I usually manage to win enough to round out our income and take care of what needs to be taken care of around our home.
About The Author: Indigo

Indigo is an Indigo child, her gifts have been handed down through generations, and she has used them since she was a teenager. Using a unique blend of, tarot, astrology, numerology, psychology and clairvoyance, she is able to give you the most information in the shortest time possible to help you find a way to change your situation. She has been a spiritual advisor in her community for 20 years and continues her education, while fostering the gifts she has handed down to her grand-children. You can get a reading from Indigo at PsychicAccess.com.