Lilith Survival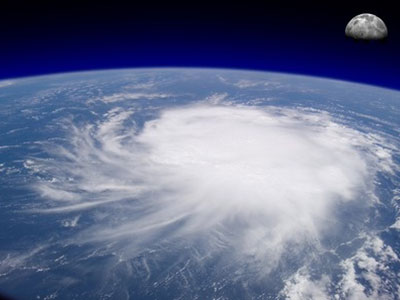 Fall is my favorite time of the year. I always feel much more connected to subtle energies, elementals and spirits, as though they are like people we see in everyday life. The veil between the worlds thin as we approach the end of the natural year. Lately, I began feeling even more connected to Goddess energies than I usually am this time of the year.
I have also been doing some serious thinking on the mysterious Lilith Points that are in everyone's Astrology charts. Lilith is described as the point in our Astrological charts that is all and everything that cannot be explained, but is known as "what is." I found myself meditating on this puzzling description and the answer eventually came to me. It was not as sinister as I thought it would be, and yet it is scary to think about.
It is not the strongest of the species that survives, nor the most intelligent, but rather the one most adaptable to change ~ Clarence Darrow
The Lilith points are all about survival. Fall is also hurricane season here in the Gulf region of the United States. Recently more natural disasters occurred in my area. Hurricane Harvey hit Texas in August this year. It was an unusually strange storm even for a hurricane. The unexpected happened.
As experienced hurricane survivors we prepared for the storm as soon as we heard it was approaching. Most of us decided to shelter in place, instead of evacuating, because it seemed silly to travel if the roads were crowded with cars and all the gas stations were closed.
Several days ahead of the storm, I went to the grocery store. There was not much food left, but I bought whatever non-perishables I could find, and filled all my water containers at home. I also located all my candles and waited, expecting a week or so of no power and no running water. I thought I would simply watch the storm and read books.
This time, however, instead of the expected heavy winds that blow for several days, we experienced the heaviest rainfall I have ever seen here, as well as severe flooding. Most of us only had flood water up to our front doors, but many homes were actually flooded. Some folks lost everything they owned. Lives were lost, and businesses closed.
It was so strange to hear that there were boats instead of cars on the highways. I have long understood that earth changes are coming, as shown in the many large scale natural disasters that occurred over the past decade. And I can feel that more are coming.
The spirit finds a way to be born. Instinct seeks for ways to survive ~ Toba Beta
How will we survive these changes? What will we do to prepare? It does not hurt to learn to live at subsistence level to survive. A psychic can help you predict what natural changes may occur where you live, and what turmoil may lie ahead for you.
With intelligent and intuitive planning, you can prepare to survive unexpected changes. Of course, survival is also what you are already doing to make a living, and to thrive. You can make the best of your life, to create stability, acquire shelter, food, and use your creativity, heart and mind, to achieve your higher goals.
How do you best survive? It is a great plan to get a reading from qualified psychic who will interpret where the Liliths are in your personal Astrology charts.
About The Author: Lelia Star

A single mom, fashion designer, fitness trainer, and a natural born Intuitive, Leila lives a full and rewarding life in Texas. Her psychic practice includes a growing clientele that includes several famous celebrities. She's mastered many metaphysical tools, including: Tarot, Runes and Astrology, and has been using her natural Clairvoyant, Clairaudient and Clairsentient gifts for more than thirty years, gifts that go back at least three generations. She can easily tune-in to a client's energy, addressing their most urgent issues and needs. She's always been a strong advocate for women, helping her clients to feel good about themselves, on the inside as well as the outside. Not only is Leila still very active in the Goddess community, but she's a gifted mystic who can communicate with loved ones, interpret your dreams, perform guided meditations and accurately communicate your astrological path. If you'd like clear insights on your past, present and future that will help you embrace your most confident self, you can find Leila at PsychicAccess.com.