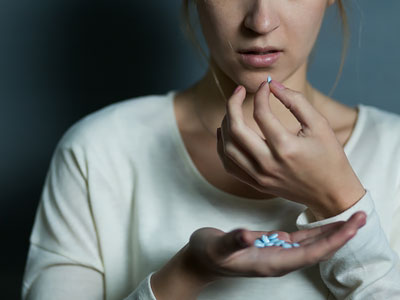 Yesterday, when I went out for a walk, I heard a woman sneeze as I was passing by a nearby gas station. Well, it sounded like a sneeze and I said, "Bless you!" She then told me, "I only wish that was a sneeze, but it's actually a smoker's cough!"
It is widely acknowledged by the medical community that smoking is a behavior that becomes addictive on a biological, as well as behavioral level. I have a personal understanding of addiction, since I was addicted to prescription drugs myself. I am now clean and sober, but that is only a small fraction of true, holistic recovery.
I believe that the presence of an addiction represents a special wound we need to heal. It represents the fact that there's an especially strong subconscious burden present in our bodies, which needs to be recognized and expelled.
Believe more deeply. Hold your face up to the light, even though for the moment you do not see ~ Bill Wilson
I used to attend twelve-step meetings, and I may go back at some point. However, I have since ventured for a higher level of healing. Twelve-step programs do an excellent job of igniting the spirit. However, many people relapse. I wanted to find the root cause of relapse and surpass the energy I had found when I first entered the program of recovery.
I embraced healing on all levels, encompassing physical, spiritual and emotional. Healing body, mind and spirit all at the same time is really what is needed to lessen one's chance of relapse. If one does not address all three, one's chances are greatly diminished.
Twelve-step programs do not consider addiction limited to drugs or alcohol. Many times, a person can be addicted to a relationship and the ups and downs one gets from receiving contact from a person they care about. There is a chemical 'high' that results, just like a drug use. If a person does not learn to ground themselves in holistic recovery at some level, they are going to be stuck in the cycle of addiction to people in relationships, or other instant gratification behaviors such as gambling, sex, or food addictions, to provide their inner happiness.
At some point in one's life, one may hit bottom as a result of surfing the 'sea of instant gratification catch-a-wave,' and seek to live a more stable existence.
Addiction begins with the hope that something 'out there' can instantly fill up the emptiness inside ~ Jean Kilbourne
When I started my own profound body healing experience in early 2016, I experienced some major turbulence at first. Now, a year and a half later, I am reaping the benefits of taking that huge leap of faith. I feel joy in the simple things life has to offer me. For example, a pleasant, healthy meal at my favorite restaurant, with no need for coffee or dessert. The aroma of a flower I have picked while walking in my neighborhood. The quiet solitude of meditating in my office prior to receiving a call on Psychic Access. These things never used to bring me such joy in the past, due to my inner restlessness which went hand in hand with the 'addict' in me.
A person can only evolve by purifying oneself in body, mind and spirit. Of these three, spirit is the most important. In time, that spark of recovery desires to purify the body as well. That is when one is truly healed.

PsychicAccess.com.


Esther's background in psychiatric pharmacy and patient education leadership provide her with a psychological expertise that most Psychics simply don't possess. Her transition from pharmacist to online Psychic and her subsequent success with clients allowed her to leave her pharmaceutical practice to pursue a full-time career as a Psychic counselor. She is also an insightful astrologer with a triple Virgo placement that gives her a strong dedication to her practice and a keen devotion to her clients. She currently hosts a weekly radio show and is often invited as a guest on other programs. Esther has already read for over 2000 clients and many on that list are regulars! If you'd like a reading with this highly intuitive rising star who can turn any negative into a positive, you can find Esther at