What Astrology Can Do For You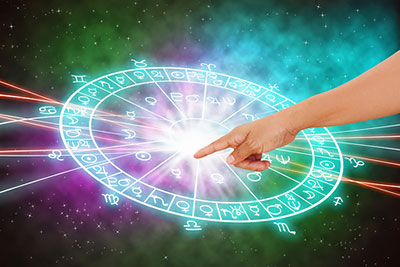 Mystics have studied Astrology for thousands of years and it is still very popular to this day, because it can be used to reveal many things in your life. The natal chart is your Astrological birth chart, which is used to reveal things about the energetic influences that may have an impact on your entire life.
The natal chart represents the exact order of the planets and stars at the time of your birth. The energy surrounding your birth has an impact on personality, as well as predicting future events in your life. It can be a helpful tool to use in order to navigate through life more easily, and have a better understanding of how to live your life to the fullest.
The planets are God's punctuation marks pointing the sentences of human fate, written in the constellations ~ James Lendall Basford
Astrology is a powerful tool that can be used to show your greatest strengths and weaknesses, in order to allow you to use it to your advantage. Understanding yourself better, and the energy you were born into, can be a powerful force to control your destiny. It can also help you to know when to make important decisions in your life, such as when to get married, when to have children, a change in career, and so on. Your natal chart will allow you to see when is the best time to make these decisions, in order to have a desirable outcome.
Through the study of Astrology your life can become much more manageable and you can learn to play on the positive, in order to get the desired outcomes you seek. The way that the planets are aligned at your time of birth have a strong energy pull and a large impact on how your life will go forward.
Horoscopes are an interpretation of the Astrological alignment of the plants, to reveal details about your personality, as well as what is coming up for you in the near future. Many people check their horoscopes daily to see what the day or week may bring for them.
The study of astrology can also help connect you with a soulmate. When two people are compatible in their birth charts it will also play out to be energetically compatible in life. Astrological signs often play a significant role in whether two peoples energy will sync into one.
A child is born on that day and at that hour when the celestial rays are in mathematical harmony with his individual karma ~ Sri Yukteswar
Two signs that are compatible with one another will have a higher chance of success in their relationship. When two signs are mismatched the chance of success greatly declines. The next time a new person enters your life, it can be extremely beneficial to study and compare both signs to see long term compatibility.
The great thing about Astrology is that anyone can learn to use it and there are no special abilities required. This can be a metaphysical tool used to take charge of your own life, as well as make the right decisions in your life.
About The Author: Summer

Summer resides on the East Coast and is a skilled Energy Worker, Tarot Reader and Counselor with a Master's Degree in Psychology. Over the last ten years, her compassionate approach has empowered many clients to overcome difficult life situations. Her clear Intuitive answers, coupled with her counseling credentials, make her the ideal practitioner that her clients return to for advice. She specializes in the areas of love, career and relationships, and clients testify on how accurate her predicted timelines have been. Many also report on relationships that have been restored, thanks to her sage advice. If you'd like to relieve anxiety, find answers and know what the future holds for you on any situation, you can find Summer at PsychicAccess.com.