Losing Chopper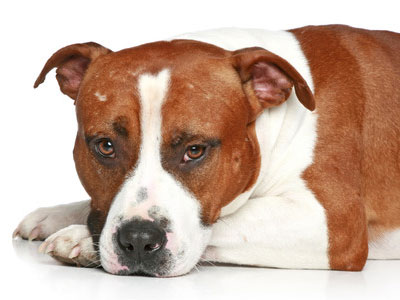 I have been putting off writing this blog. It still hurts to write about losing my dog, Chopper, in October of 2016. It stays with me. Clearly, I am not over this loss. If a dog can be a soulmate, Chopper was one of mine. Is this a metaphysical topic for a metaphysical blog? I would say yes. How much more spiritual can building a loving relationship with another creature be? And them allowing you to sit with them while they pass?
I met Chopper when he was two years old. He was at a shelter a couple of hours away from my home. His foot was injured from trying to paw his way out of the kennel and he had non-contagious mange. He smelled awful!
When an eighty-five pound mammal licks your tears away, then tries to sit on your lap, it's hard to feel sad ~ Kristan Higgins
He was an American Staffordshire Terrier mix and he had been labeled as "unadoptable." This means that he would be one of the last to be given a forever home. A forever home is the home of an adopter who agrees to be responsible for the animal for its entire life. An execution date was set as the day after I was to meet him.  It was four days before Christmas.
I rescue animals whenever my finances and living space allows.  I believe in rescuing animals; they are close to my heart.  But finding Chopper was a total fluke! I found him on Craigslist.  At the time I never would have considered adopting a dog like Chopper. I already had a pack of dogs and three cats. Bringing a two year old, "unadoptable" dog into said pack was the furthest thing from my mind.
I drove two hours by myself, to visit him, despite that fact that I hate driving. I did not discuss this with my husband, despite the fact that I almost always discuss the important things with him. So, doing this was a really extraordinary situation for me, but the Universe decided to make it happen. It was synchronicity, and it was our destiny. And so "unadoptable" Chopper ended up living with us until he was almost 13 years old.
Chopper suffered from Post Traumatic Stress Disorder (PTSD), because his life before coming to me was not easy. I suspect he was trained as a fighter, or at least someone started to train him. He would wake out of a dream aggressive and ready to fight, and I had to hold him back from the rest of the pack. He was pack friendly, but other dogs were not allowed in his world.
Chopper was a mess, but he was a sweet mess. I discovered that if I scolded him using a harsh voice he just growled at me. If I scolded him while talking baby talk he often melted and licked my face. Oh and his tongue! It was so big that one lick covered half my face. He was after all a 95-pound dog.
What counts is not necessarily the size of the dog in the fight; it's the size of the fight in the dog ~ Dwight D. Eisenhower
He was also a 'magic' dog, meaning that when I had an emotional moment or a stress reaction myself, he was there to pull me out. He knew just what to do. Sometimes, it entailed making my face wet from all his kisses, as he tried to draw me back into the present. He was precious, and I adored him.
Reading this, I bet you would say he was a high maintenance dog. Well, you would be right, but he was well worth it!
Gradually and over time his back legs stared to weaken. He developed hip dysplasia, which is common in larger dogs. It was a slow process, but all too quick for me. He stopped being able to get up on the couch. I lowered the bed mattress to the floor, so he could easily get onto the bed. His favorite place was on the bed. This safe place seemed where his body felt better.
He seemed to become unhappy in his body. He no longer played fetch. He no longer jumped. He no longer ran. If he had a good day and played a little too hard he would be sore the next day.  His body was not what it used to be when he was young. His journey was much like the human experience of ageing.
One morning he was laying on the floor and I noticed that he could not walk across the living room. He made it once, but that was the last time he walked. I had always told him if his body got to be in a state of overwhelming pain, or if his body became too much of a burden, that he could leave. I told him that I loved him and that he would be missed if this day should come.
It seems that on that Saturday in October the day had come that he had finally had enough. His breathing grew labored and yet he did not panic. My husband, the other dogs, and a newly-rescued, black cat, as well as myself, all gathered around him on the floor. We surrounded him with love. I took his head in my hands and looked into his big, brown eyes. I reminded him of our agreement of leaving if life became too hard. I told him that we all loved him. Very soon after the light left his eyes, he passed. It was easy and peaceful.
Chopper allowed the gift of sharing his passing just as he allowed us to share his life. Losing Chopper was an impossibly difficult experience and it was a very precious moment. It was a necessary moment. I am grateful to have known this wonderful creature. He taught me so much about acceptance and love.

About The Author: Mataya

Mataya's Light Readings are a gift from a higher source that she's worked hard to develop throughout her life. She understands more than most what it's like to struggle with emotional and physical roadblocks and with a Masters in Counseling, she has spent many years using her natural psychic gifts and acquired knowledge to see clients through difficult patches. Since 1988, she's professionally guided others, using Tarot and other divination tools, at various psychic fairs in California. She's worked one-on-one with clients in metaphysical shops, and enjoys a successful online practice. She's channeled energies from her guides and passed on accurate information to her clients. A true Sensitive, Mataya takes on the energy of others, feeling and sensing their challenges. Her name came to her out of the blue one day and she has since learned that Mataya mean's God's gift. If you'd like to experience Mataya's incredible gifts for yourself, try a reading with this compassionate and accurate reader. You can find Mataya at PsychicAccess.com.


2 Responses to Losing Chopper