Hate Man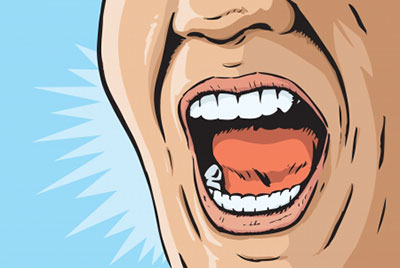 When I first moved to the  San Francisco Bay Area, I learned that if you want to get around quickly, it's best to walk everywhere. All the time spent walking gave me the opportunity to observe a lot about myself and my thoughts, as I ventured through various nooks and crannies of the city. On these walks, I also encountered interesting sights, fascinating people, and many exciting places, including bookstores and restaurants.
Sitting on the steps of Sproul Plaza, at the University of California, Berkeley, I always found a ragged looking elderly man. He perched himself on the edge of the curb with a Marie Callender's pie tin to collect money. But he was no victim; his energy was combative. He would yell at passersby, "I hate you!" If at all possible, people avoided him by crossing the street. His words still reached their ears, but that 50 foot distance gave at least some reprieve.
Anyone can possess, anyone can profess, but it is an altogether different thing to confess ~ Shannon L. Alder
His real name was Mark Hawthorne, but we all knew him as the "Hate Man" or just "Hate." He ate out of trash cans and lived on the streets. He was colorful and endearing and brilliant. Hate Man called his personal philosophy of life "oppositionality." I think he made that word up, but he subscribed to the idea that people need to be honest about their negativity. He used a form of "pushing people" to find out where they were coming from.
Hate Man believed that if we bring out the negative thoughts we have, that we will be more honest in our own lives. He believed this would stop people from the "con," as he put it. If we "con" ourselves, we lie to ourselves and we lie to others. He felt people were inauthentic and before they could have a relationship with society, they had to push to see their own shadow… their dark side. Hate Man was therefore more than happy to give a big fat shove to whoever would have it.
One afternoon, as I walked into town reflecting upon life, I found myself face to face with the Hate Man. I wasn't sure if I was frightened or stunned, or a little of both. He had a twinkle in his eye, a cigarette in his mouth, wore a woman's floppy hat and a bright floral shirt.
"There's a fine line between love and hate," he said, looking me in the eye. "Hate is really love. It's a cry for love."
"Yep," I agreed, "they are one and the same. Some passion is so great that it turns to a contorted kind of thing that we classify as hatred. It is really masked in love."
I tried slipping past him and kept walking, but he followed me.
Never apologize for what you feel. It's like saying sorry for being real ~ Lil' Wayne
"Where you going? You afraid of me? You hate what you see?" He pushed his words at me.
I loved the challenge. "Nope, not afraid. Should I be?"
Hate Man began to laugh. "Fair enough," he said. We began to discuss what I call the 'the shadow,' and what he called "human pain." He felt that people are not to tell people what to think. He thought that people need to see people's pain and in doing so it would help us let go of our agenda of telling people how things should be, and simply let them live. It was radical.
Hate Man chose to live on the streets, and he knew his ideas were radical, and didn't care. He was filled with compassion and insight, but to the naked eye, the passer-by, he was someone to be feared. In their defense, it can be scary to come face to face with a man screaming, "I hate you!" And he loved dropping the F-bomb too! He insisted that everyone use it.
I liked Mark. I appreciated him. I was also intimidated by him, because he was so free. By ordinary standards Mark was considered mentally ill. It wasn't always that way. Mark used to be a New York Times reporter. He had worked his way up the ladder from copy-boy to writer. After nine years, he quit his job, divorced his wife and chose to live on the streets. He told me he wasn't homeless, he just preferred to live this way.
Every evening he held court in Sproul Plaza, which came to be known as "Hate Camp." People began showing up to participate in Hate Camp – to release their hatred, loathing and bitterness. At first I was offended by his aggressive, intrusive attitude. As the months passed by, I stopped seeing him as being offensive.  He would stare me down with a sparkle in his blue eyes and a smirking smile, and I would laugh. He would yell, "I hate you," and I would yell back, "No you don't… you love me!" He would then belt out a wonderful laugh and say, "F-you."
I'd laugh and think, "We must look like two crazy people….Heck, we probably are all crazy people." But I didn't care, because in that moment, I was free to be myself, and to love, care and scream back to someone that most people avoided.
Your time is limited, so don't waste it living someone else's life ~ Steve Jobs
I decided to write today about Mark "Hate Man" Hawthorne, because he was not afraid to face the shadowy nature of humanity. For a brief moment he let people be free from the ideas they held of themselves, that keep them down and imprisoned – those places where we hide who we are.
Hate Man was as honest as he could be, and yes, he was homeless, although you could never convince him of that. He loved living in the fresh open air and would always retort, "I am not homeless. I choose this. The streets are my home."
Hate Man wanted people be honest about their negative feelings, because he felt in doing so those feelings would fade. He didn't feed the negativity; he just listened and let people release it. He talked young prostitutes off the streets, and young kids out of taking drugs. At Hate Camp groups of people wildly discussed their dark side, their disappointments in life, and in turn they found inner peace.
Mark "Hate Man" Hawthorne died this April, after living 80 very full years. Of those years, 44 were lived on the streets. Although his ideas were not accepted by all, his mission was to bring more peace to people.
Let us not be afraid of our shadow; let us make friends with it. It will show us our light when we are not afraid of our pain. Even when it seems like it is all-round backward, there are glimmers of gold if we look more closely, with a fresh eye. Things are never as they seem. Mark the Hate Man taught me that. Gifts come in the most odd packages.
This site uses Akismet to reduce spam. Learn how your comment data is processed.