Flip A Coin And Make A Wish, It's The New Moon!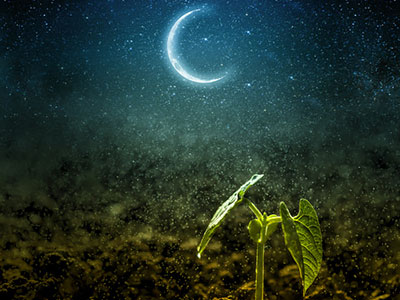 Today sees the arrival of the New Moon. There is an old saying that at the first sight of the New Moon, one must flip a silver coin and make a wish. It's also said it will ensure prosperity through the coming month. Being 'Moon wise' is a great way to get into the flow and use the energies of the Moon available to us.
The New Moon it's a powerful time to set your intentions and wishes for the lunation and beyond. It is a perfect time to begin a new project, new job, new relationship, create renewed sparkle with a current love, or create a new vision for your life. The next ten days after the New Moon has that extra magic and tremendous power, so use it to you advantage!
The New Moon is a beautiful time for meditation and to be in the stillness. We are given that inner knowing for our intentions and desires for our New Moon. Now is the time to tune into the cosmic realm while the veils are thinner. Here you will find peace and new downloads will be received.
Don't tell me the sky is the limit, there are footprints on the moon! ~ Dorothy Parker
It's fun to manifest and to get into the practice of setting intentions with each New Moon. I have purchased oversized Post-it® notes that come in the shape of hearts, which I love to write my intentions on in the form of affirmations. They are fun and come in different colors and you can easily place them around your home. This practice is a great foundation to start the lunar cycle.
I also love to take my favorite Moonstone and somehow place it above my posted list, near the window where the New Moon can work her magic. I also place a Moonstone in a pouch under my pillow. You can use any stone that holds the intentions for your wishes, but the Moonstone is especially magical for me.
Moonstones are very personal stones, and can assist with bringing in what we desire, while giving us added lunar intuition every day. As the lunar cycle progresses, we take action toward our desires and we draw them closer to us. At the Full Moon, we can look at what has manifested and write "thank you" next to each one on our list!
Each New Moon brings her own magic in terms of the Zodiac. This month's New Moon arrives in the sign of Taurus. This is a time of determination and the power to manifest luxury and the finer things in life. Venus rules Taurus, so this month is also offering intense opportunity in the realm of love and romance.

About The Author: Maggie

Maggie helps people turn the radio dial up on their vibrations to hear the messages you're meant to receive. It all began as a teen with a dog-walking job in the neighborhood that—if you'll excuse the pun—unleashed Maggie's innate Gifts as a powerful Intuitive Reader. What followed was a rewarding career as a Tarot Reader, Numerologist, Reiki Master, and Angel Card Reader—to name just a few of her remarkable skills. Maggie's accomplishments include on-air co-host for Blogtalk Radio, several published articles on Tarot and Numerology, she's an endorsed reader for The Tarot Guild, and a much sought after Intuitive Reader hired for both corporate and private events. In addition, she has a YouTube channel where you can view and subscribe to her weekly vibes. If you'd like to personally tune-in to Maggie's unique and highly accurate vibe, for yourself, you can find her at PsychicAccess.com.