Children In Heaven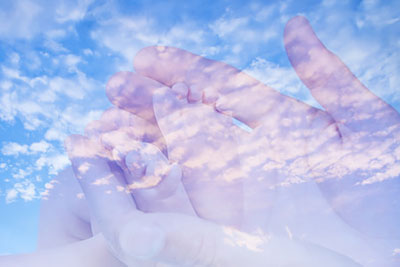 We choose not to say words such as death or loss, as your nature is not one of death and loss. Your nature is one of eternal, infinite, always everlasting.
Take a moment with us now to call in your loved ones, to call in all of your loved ones in spirit for you come with a whole lineage of angels and spiritual beings that desire to communicate with you here today. Take a nice deep breath, opening up this communication, opening up this portal allowing a clear and perfect connection with all of your loved ones in spirit.
How do you know your loved one in spirit is actually here with us today? It is the love that you feel in your heart that is deep and everlasting that serves as the beautiful bridge, the beautiful connection to this light to this spirit. And as you continue to focus on this feeling of love, and gratitude for this opportunity your connection grows stronger and deeper opening wider.
It is the capacity to feel consuming grief and pain and despair that also allows me to embrace love and joy and beauty with my whole heart. I must let it all in ~ Anna White
Release and dissolve all fears and doubts; any blocks or interference; any thoughts that you are doing something wrong or you are not getting it right. Simply allow the beautiful connection of love to open up this communication now.
We would like to offer special comfort to grieving parents today and we would like to offer these thoughts: What if there were no accidents? What if what happened was meant to happen? What if it was all part of the Divine plan and you were fully and completely aware of this before you came into your body and so too was your loved one, and you made this agreement together, to have this experience? What if you did nothing wrong, but everything right?
We invite you to open up to this truth for it is real. There is a Divine plan in your life and when you begin to stop blaming yourself and move through your grief and surrender, letting go and allowing God to move into your heart with love and grace you will begin the evolution of your change that is the purpose of the experience that you contracted with your loved one.
Beautiful things will begin to unfold in your life as you merge with the pain and become one with all that is, your loved one in spirit also becomes one with you and you are forever connected. There is never any loss or death it is merely a changing of worlds. When you embrace this change, you open up to a whole new level of engaging with your loved one – a whole new way of connecting and experiencing their love, their energy.
Life is not profound without its own tragedy. It humbles us. Sets the bar for our introspection. Keeps us from believing we are gods. Puts our egos in check ~ Crystal Evans
Take a deep breath now and open up to this truth allowing it to heal your pain like a salve over an open wound. You have done nothing wrong. You have done everything right. Your loved one is happy and free and comes here with much joy and love in their heart for you, much gratitude for engaging in this experience with them for they know it is not an easy one for you.
Feel the love. Feel the joy and allow this to fuel you as you move through these moments of grief.
Remember you have a plethora of angels helping you to align with your highest good. Ask for help and be open to receive it.
I am Metatron and I have spoken here today.
*Adapted from a recent weekly energy report channeled from Archangel Metatron.
About The Author: Julie

Julie is a psychic Medium, healer, and spiritual educator from Wisconsin with a plethora of metaphysical credentials too long to list here. After her father's passing, almost eighteen years ago, she fully embraced her natural gifts as a psychic Medium and now works full-time helping others all across the globe with spiritual readings and teachings from the beyond. She is the host of two radio shows, the owner of her own healing business since 2007, and heads an online University for international soul development (HSU). Julie is a Channel for Archangel Metatron, delivering clear messages to clients that transform their lives. If you'd like to experience this highly qualified and gifted metaphysician for yourself, you can find Julie at PsychicAccess.com.