Empath Shielding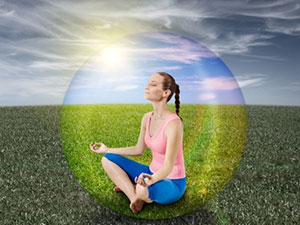 Empaths are very easily affected by other people's feelings and emotions, so their energy levels are highly susceptible to their energetic environment. Therefore it is vital that empaths learn to properly shield themselves from unwanted negative energy.
So how do you stop unwanted negativity from entering your energy system? How do you comfortably go through your day not being a sponge for all the feelings, emotions and energy of others? It is actually quite easy to shield yourself and maintain your boundaries once you practice a little.
First, you can cleanse your own aura when you get home with sage smudge sticks, or smokeless sage mist to remove any unwanted energy from your day. You can carry stones and crystals that ground you and absorb negativity, like apache tears or smoky quartz, on your person.
We empathic people must practice energetic hygiene practices every day. What I mean by this specifically is that we must get in the habit of a daily meditation/visualization practice that involves grounding, clearing, and shielding our energetic body ~ Tess Whitehurst
However, just visualizing an egg shaped energy around you and reinforcing it throughout the day does wonders. I see a blue egg come down from heaven and I step into it, feeling it all around me. I intend for it to protect my energy as I go out into the world.
Here is a great and firm mantra or affirmation made with the intent of protecting your energy without blocking your intuitive ability to sense other people's emotions:
I am unwilling to absorb anyone else's energy. I want to be aware of it, but I'm unwilling to absorb it.
It is really a great one as it grounds you and puts you in control over your circumstances. As with any mantras and chants – for highest success-rate, repeat them until they stick.

About The Author: Kaysie

Kaysie is a natural born psychic whose abilities were bumped up after a serious head injury. Her predictive dreams include accurately forecasting an earthquake in Los Angeles! While working as a bartender, she was able to gather highly detailed and personal information just by throwing a pair of dice and is currently working on a book drawing upon those experiences. From her base in Virginia, Kaysie has gathered a long list of devoted clients and is a main draw, reading Tarot at psychic fairs and private parties. If you'd like a reading with this highly accurate, ghost-busting Psychic , you can find Kaysie at PsychicAccess.com.