Great Ways To Love Lavender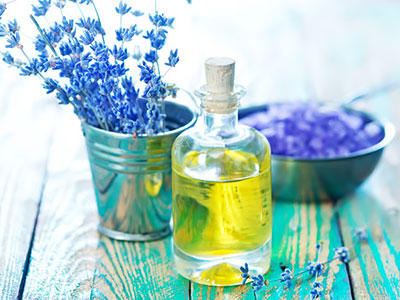 I love lavender. It is the one herb and essential oil that most people love and it has many benefits, including helping you relax and sleep better. It is one of the few oils that can be used on babies and is well-tolerated by most people. Besides smelling amazing, the plant also looks fabulous!
Essential oils are the healing properties found in plants and can be very therapeutic. Essential oils are an easy way to get the healing properties of herbs into your life and they are less messy. Lavender is relatively inexpensive and readily available at most pharmacies and health food stores.
Please check with your health practitioner before using any essential oils or herbs, especially if you are not well, or taking medication. Never use these products if you are pregnant or nursing.
Keep rosemary by your garden gate. Add pepper to your mashed potatoes. Plant roses and lavender, for luck. Fall in love whenever you can ~ Alice Hoffman
Below are great ways to easily get some of this wonderful herb into your life every day.
Relax
Try using lavender essential oil the next time you are stressed and need to relax. Place a few drops with a little water in an oil burner. I love the oil burners with the tea light; you can get so many nice ones. If you have animals or small children and don't want to use a candle or oil burner, just sprinkle some on a tissue and tuck away in your clothing. No one will be the wiser and you will smell great. If lying down, sprinkle some on a tissue and tuck inside your pillow.
Sleep
If you suffer from insomnia, try getting a warm bath before bed and add about 10 drops of essential oils to the bath water. Soak for about 15 minutes or so. When you get out of the tub, enjoy a cup of chamomile and lavender tea. The chamomile will help you to sleep as well. Before you know it you will be relaxed and on your way to a great night's sleep.
Scent
Lavender is a great fragrance. Add it to your unscented creams, lotions and even shampoo. It is also known to be helpful with eczema and dermatitis, so you will smell great as you heal your skin.
Oh, they are such savages! I'm sure if I had not put lavender on my pocket handkerchief, like Mama, I should have fainted away ~ Joanne Baillie
Heal
Cold sores are nasty and frequent this time of the year. Try placing a drop or two of lavender oil on a blob of Vaseline and apply to your cold sore for some relief. Never apply essential oils directly to the skin.
Soothe
I love a nice hot bath, not just for relaxing but for aches and pains. Make your own special bath blend by mixing dried lavender leaves, lavender essential oil and Epsom or sea salts in a small plastic bag. Shake the bag until all the ingredients are mixed well. The amounts you use are up to you, but a basic recipe is 10 drops of oil, teaspoon of leaves and two cups of salts.
Add about a quarter of a cup of the mixture to warm running bath water and watch your tub turn into your own spa. Lavender is helpful for muscle cramps, so the next time you feel sore and need to soak in a warm bath, don't forget the lavender bath salts.
About The Author: Nancy

Nancy is a Canadian native and Indigo/Star Child, born with a heightened spiritual awareness. She's been communicating with Angels since the age of four and enjoys a close relationship with Mother Nature that extends to the Animal Kingdom. Attracting people and animals in need, she receives premonitions and visions and heals troubled souls through the many gifts she's employed in this life, as well as other lifetimes before. Energetically, she draws people and animals to her and compassionately connects to every soul, drawing from her well of experience as a Social Worker, Tarot, Angel and Animal Reader, Aroma Therapist and Master Herbalist, to name but a few of her many prized offerings. If you'd like a reading with this Empathic, devoted and highly gifted Intuitive Worker, you can find Nancy at PsychicAccess.com.