It's Not Too Late For New Year's Resolutions!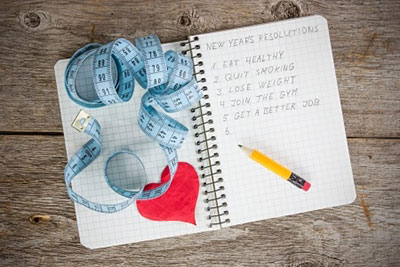 So, the year 2017 is finally well on its way, and already those new year's resolutions are beginning to falter for some. I, like so many people, also have made my new year's resolutions. I want to be more positive, more focused and more available to the ones that need me. I also want to lose weight, eat more healthily and get more exercise. These are my promises to myself, but will I live up to them? That's a good question.
Why do we make these resolution and then not follow through? I have found that I do much better if I focus on just one. Creating unrealistic expectations for yourself will only set you up to fail. Plan ahead, and have the tools and attitude to succeed. A positive attitude is crucial to success with your resolutions. You have to believe you can do this!
Sometimes, take a moment and ponder; yes, take a moment and stir your life just as you stir that delicious stew! Taste it to know how delicious or the otherwise it is! And if there be a need for a change, be swift and tactical ~ Ernest Agyemang Yeboah
To plan ahead, sit down and make a list of the things you need to have and do to ensure success. Making a list keeps me focused. It's a clear cut plan and necessary for success. Researching your resolution can help to. Reading up on the change you want to make can give you some clarity. The Internet is a wonderful place to get information and compare your progress to the success and failures of others.
Expect to encounter some setbacks. I guarantee you things will go wrong. You have to be in the mindset that just because you have a problem does not mean you should give up. Face the issues head on, fix them, and then continue on with your goals. A positive attitude is what you need, and of course that should be one of your resolutions too.
Set a start date. Many people believe that resolutions have to start on January 1st. This is not the case. You can start whenever works best for you. It may be that circumstances are that you can't start until February. It's not a matter of when, it's a matter of what are you going to do, and how you are going to succeed. If you have not set any resolutions for this year, it is not too late. You can get started right now.
Getting and accepting support from others who have the same goals is also very helpful. I find it easier to stick to my resolution if I have someone else to work with. A group of like-minded people, a support group or a close friend can make sticking to your goals much easier. So don't be afraid to ask for support. Once again the Internet it a great place to find this.
We spend January 1 walking through our lives, room by room, drawing up a list of work to be done, cracks to be patched. Maybe this year, to balance the list, we ought to walk through the rooms of our lives…not looking for flaws, but for potential ~ Ellen Goodman
Don't have unrealistic expectations. There will be times when you have setbacks. Just because you have a relapse, doesn't mean you have failed. If you 'fall off the wagon'… get up and get back on. This is a mistake people often make – one relapse and they think it's all over. It's never too late to pick yourself up and continue on with courage.
The most difficult process for me is making that resolution and getting myself in the mindset to start. The new year is a perfect time to make this happen and a perfect time to get started. But anytime is a good time to better yourself. It doesn't have to be on the first day of the new year. You can set goals for every month. Make a list for every month of the year and focus on one resolution at a time.
Once again, a positive attitude is the most important resolution of all. With that you can do almost anything you set your mind to. Without a positive attitude life can be really challenging. So, this is the thing I will work on the most this year.
About The Author: Lani

Lani is a third generation psychic, who inherited her gifts from her mother and grandmother. In addition to her skills as a clairvoyant and dream interpreter, she is a natural born empath, and can feel what others feel. She can feel your difficulties and immediately pinpoint your dilemma. Through this gift, she can accurately guide you to make the right decisions that will improve your future. Get a psychic reading with Lani now at PsychicAccess.com