Fresh Starts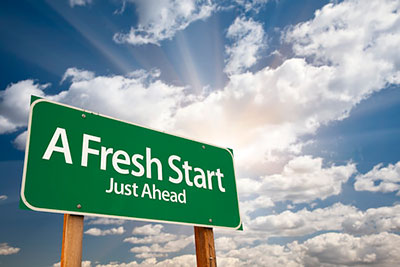 You have the opportunity, the choice to begin anew in each moment of your experience. Take a nice deep breath into that idea, that concept. Feel yourself rejoicing, rejoicing as you imagine as you feel and witness a beautiful cleansing occurring throughout your entire soul, your entire being.
Again, breath in deeply and exhale completely. Breathing in a fresh start and exhaling old baggage. Breathing in renewal, exhaling  pain. And now simply allow yourself to embrace new beginnings, fresh starts, opening, opening, opening and allowing yourself to go deeper into this beautiful connection with your soul.
Your soul is pure love. Draw from the strength of your soul, all that you need. Your soul is never empty. It is always full. Full of love, full of light, full of blessings.
I have always been delighted at the prospect of a new day, a fresh try, one more start, with perhaps a bit of magic waiting somewhere behind the morning ~ J. B. Priestly
You have the ability to function primarily from this space, the space of your soul. As you feel your ego moving in and out throughout your day you can be a witness to your ego instead of a hostage.
You can always feel when your ego moves in, for your tongue will become sharper, your words will become more judgmental. The words you speak of others not only has an impact on their energetic field but they impact your own as well. So we caution you to be careful. To be the witness to your ego that comes from a place of fear.
That is not who you are. Your soul is always rooted in love. You are an eternal being of love and light.
It is your choice to function in that space and allow your light to shine with your words, blessing others with your tongue, offering a shower of love when you speak of others. Imagine the impact that has on their energetic field and yours!
Never forget the power that you have in this lifetime. Your feelings of powerlessness are simply an illusion. Align with the truth of your being. You are a soul. You are God incarnate. You have the power to create peace in this world you walk upon.
Forget past mistakes. Forget failures. Forget everything except what you're going to do now and do it ~ William Durant
Never forget the magnificent, incredible, incredibly powerful being that you are.
You need only choose and accept the mission, embrace your choice of living in this world in love.
Remember you have a plethora of angels helping you to align with your highest good. Ask for help and be open to receive it.
I am Metatron and I have spoken here today.
*Adapted from a recent weekly energy report channeled from Archangel Metatron.
About The Author: Julie

Julie is a psychic Medium, healer, and spiritual educator from Wisconsin with a plethora of metaphysical credentials too long to list here. After her father's passing, almost eighteen years ago, she fully embraced her natural gifts as a psychic Medium and now works full-time helping others all across the globe with spiritual readings and teachings from the beyond. She is the host of two radio shows, the owner of her own healing business since 2007, and heads an online University for international soul development (HSU). Julie is a Channel for Archangel Metatron, delivering clear messages to clients that transform their lives. If you'd like to experience this highly qualified and gifted metaphysician for yourself, you can find Julie at PsychicAccess.com.