Working With The Energies Of The Moon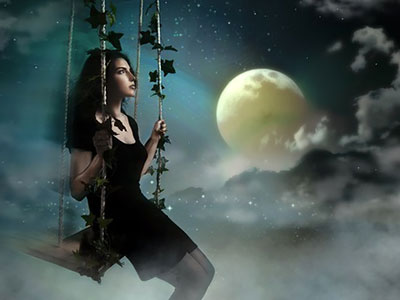 The Moon has always been a mysterious thing to me. I look at it and I feel a sense of comfort, and a sense of wonder. Do you also stare in wonder at the Moon sometimes? Then this blog post is for you.
I am not a Wiccan. However, I do like to take advantage of what God has given us to use in our lives. And I believe we can use the power of the Moon.
Ken Biles of Cyber Witchcraft explains how all people are affected by the Moon. First responders in emergency services will most likely tell you that things can get a little unusual around the time of a Full Moon. This is a truism without scientific proof.
She used to tell me that a full moon was when mysterious things happen and wishes come true ~ Shannon A. Thompson
According to Biles it is important for those doing magickal workings to keep in touch with the Lunar Calendars. Within the 12 month year we end up with two full moons in a single month. This is known as the Blue Moon. It occurs once or twice per year.
The New Moon to the Full Moon is waxing. Full Moon to Dark Moon is waning.
Full Moon
One phase of the moon is the Full Moon. This phase is when the energy is at a maximum level. It can be a time of celebration. Those who celebrate the Full Moons call it Esbats. The actual Full Moon is known as the Mother stage of the Triple Goddess.
According to Magic of the Moon, the Full Moon has the "most power, a good time to work on enlightenment and psychic awareness. Things come together and work. It is a time of ideas, new commitment, time of family and friends gathering."
Waning Moon
The Waning Moon gives the illusion of getting smaller. It runs from the day after the Crone Full Moon to the day previous to the Crying Moon.
Workings here are opposite to the Waxing Moon. We push energy out. We slowly remove things from our lives, we let go, and we attempt to have closure. This phase is connected to the Crone aspect of the Triple Goddess.
Our great symbol for the Goddess is the moon, whose three aspects reflect the three stages in women's lives and whose cycles of waxing and waning coincide with women's menstrual cycles ~ Carol P. Christ
Crying Moon
Most people avoid working with this moon. It comes right before the Dark Moon. We see the last of a tiny sliver. It is a time of endings. This time is one of abrupt endings. It may be an excellent opportunity to work with negative energy. Although I do not recommend participating in curses, this moon is usually used for this energetic purpose.
Dark Moon
The Dark Moon occurs when it seems to be invisible. The Earth overshadows the moon. This moon is effective when we want to remove or banish something. Banishment is not negative. Here we can entirely remove something.
Traditionally one would work counterclockwise or widdershins in the Northern Hemisphere, and deosil in the Southern Hemisphere. During the Dark Moon, we work widdershins because we are trying to remove energy. We are attempting to clean the slate. During the Dark Moon there is no visibility of moon. It lasts for about two to three days and it is a good time to release what you don't want in your life.
New Moon
The New Moon and Dark Moon are different, even though many sites and people say they are the same. The New Moon is seen as the first crescent. New beginnings, fresh starts, understanding some new ventures are all about the New Moon. It is as if we are breathing new life into what we love.
Waxing Moon
The Waxing Moon occurs the day after the New Moon to the day before the Maiden Full Moon. As the moon 'grows' it pulls. It is a good time to work with spells or energy work that take longer to work. These kinds of spells are built little by little.
In conclusion, we see that there are many ways we can energetically use the Moon to help us in our lives. We can aid in the healing of ourselves or others. We can discard things that are no longer working for us.
One thing that is important to remember is that we need to do what works for us. No one can tell us when the perfect time is to do a working. We have to listen to our intuition and our experience as to what works for us. What I have offered here is only a guideline. Almost always trust in your own intuition, before anything or anyone else.

About The Author: Mataya

Mataya's Light Readings are a gift from a higher source that she's worked hard to develop throughout her life. She understands more than most what it's like to struggle with emotional and physical roadblocks and with a Masters in Counseling, she has spent many years using her natural psychic gifts and acquired knowledge to see clients through difficult patches. Since 1988, she's professionally guided others, using Tarot and other divination tools, at various psychic fairs in California. She's worked one-on-one with clients in metaphysical shops, and enjoys a successful online practice. She's channeled energies from her guides and passed on accurate information to her clients. A true Sensitive, Mataya takes on the energy of others, feeling and sensing their challenges. Her name came to her out of the blue one day and she has since learned that Mataya mean's God's gift. If you'd like to experience Mataya's incredible gifts for yourself, try a reading with this compassionate and accurate reader. You can find Mataya at PsychicAccess.com.