A Gift Of Fruit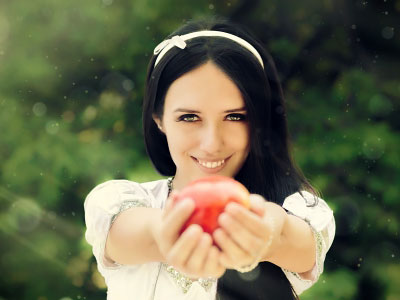 The most overlooked aspect of our Christmas spirit is the giving, especially fruit. And for each fruit there is a symbol as an emblem of divinity or purity, as an anchor to our Earth, honoring our agricultural and farming heritage. In parts of Europe, for example, St. Nicholas would put tangerines into the homes of children to announce the arrival of first Advent.
The apple was used as a symbol of longevity and happiness, and youth and fertility, and thus was used in the story of Adam and Eve as the symbol of temptation. Yet, we must remember that in this infamous story, the snake that tempted Adam and Eve, was the bringer of knowledge and this is the age old lore that presents itself again and again throughout history. Not many people know that it was the Tree of Knowledge, not the apple (or sexuality) that tempted them. And in some ancient texts, they were freed by this knowledge.
Fruits are acceptable gifts, because they are the flower of commodities, and admit of fantastic values being attached to them ~ Ralph Waldo Emerson
Fruit symbolism often has a Christian origin, like the cherry also being seen as an alternative to the apple, and a symbol of spring.
The mythical Cornucopia overflows with fruits, flowers and grains, and offered as a symbol of good luck and prosperity, To this day it is still given to children in Europe on their first day of school, to usher them into their studies in the form of goodies, toys and things needed for school.
Ceres, the Roman Goddess of Agriculture, was seen as a symbol of peace, abundance and summer. In Greece she was known as Demeter.
The orange was seen as splendor often used in bridal wreaths, as a symbol of purity, linked to the Sun, and also a redemption symbol. They are also seen as a sign of good fortune by the Chinese, and are also a symbol of humility.
The pear is seen as a maternal symbol and also a symbol of longevity in the East. Strawberries are a symbol of good health. Buddha was given a mango grove as a symbol of his divinity. The lemon, oddly enough was a symbol of fidelity or loyalty in Christian theology.
Even if I knew that tomorrow the world would go to pieces, I would still plant my apple tree ~ Martin Luther
Trees that have fruit on them, which include nuts and olives, are traditionally seen as bearers of good fortune, ideas, fertility and good fortune. Most trees bear some type of fruit in the form of flowers, so in my opinion, all trees are bearers of some beauty, and as such, even if we cannot consume them, they will be part of the natures beautiful splendor.
About The Author: Carmen Miro

Carmen's waking dreams have provided accurate glimpses into the future for celebrities as well as political and international figures. Her non-judgmental, Empathic approach, as well as her unique method of Tarot reading, affords her the reputation as a groundbreaker in her field. This European born Canadian is the first online psychic to promote the idea of Empathy and emotional thought transference, and she has written a great deal on the subject. For a comprehensive Intuitive reading that will transform your life, you can find Carmen at PsychicAccess.com.