The Metaphysical Properties Of Citrine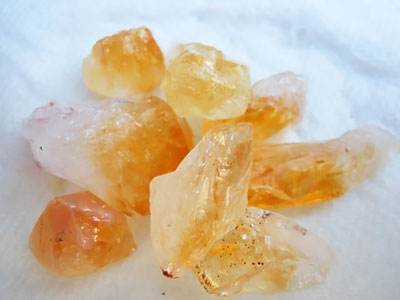 I looked forward to doing this essay because, honestly, I have never been drawn to Citrine. I wanted to learn more about it.  So, here is what I found.
Citrine is a variety of Quartz. It can be pale to golden yellow, to honey, even brown.  It can also hold rainbows or sparkle inclusions. The name stems from the French word citron which is lemon. It was used as a gem in Ancient Greece, however most of the Citrine sold today is actually heat-treated Amethyst or Smoky Quartz. Natural Citrine is pale yellow. Heat-treated Citrine and natural Citrine are said to have different uses and metaphysical properties.
It is traditionally known as The Merchant's Stone, because it brings money to a cashbox. In fact, this is one reason I have come to like this stone. This is a stone of success, abundance, prosperity, and attraction of wealth. It also encourages generosity and sharing. It helps with acquiring fast money. We can carry it to bring money and to stop the extreme outpouring of money.
Crystals can help increase your abundance. If you need to attract money to you, carry Green Aventurine and Citrine with you ~ Samantha Fey
Vocationally, this stone is recommended for those in sales, banking, casinos, fitness or instruction of sports, and the media. It also helps those who are in the medical or healing fields, to recharge. It can further improve productivity for those in governmental work. Citrine also inspires creativity and imagination and is therefore perfect for all kinds of artists.
Citrine never needs cleansing, which is another reason I have come to like this stone. This stone absorbs, dispels and grounds negative energy. It is especially good at cleaning the solar plexus and navel chakras. It activates the crown chakra and heightens intuition. Psychologically, it raises self-esteem and self-confidence and gets rid of destructive tendencies. Citrine increases motivation and is a stimulator of self-expression.
Mentally, Citrine improves concentration and helps to overcome depression, fears, and phobias. It creates an inner calm so that wisdom can get through. Wearing Citrine will help overcome difficulty talking about thoughts and feelings.
Citrine is a magnet for joy. It releases negativity and helps to overcome fear of responsibility, and decreases or stops anger and depression. It can allow us to release the past and move forward. Interestingly, it can help to identify and heal power abuse issues and helpless feelings. It gives courage needed to make hard decisions and to take action.
The Crystal Vault gives a warning that I have not found in any of my sources. It warns that Citrine can worsen aggressiveness.  It is not for those with a "fiery, quick nature". And it is not for people who slander or gossip.
The shape and the colour of a faked Citrine are both not correct. Genuine Citrine is a stunning gentle white wine colour – not a horrid burnt dark orange ~ Loren Warn
Citrine also gives us physical energy; it energizes the human body. It is helpful to those very sensitive to the environment and outside influences. It is said to help heal Chronic Fatigue Syndrome and may also assist in reversing degenerative diseases. Citrine eliminates kidney infections and bladder infections. It can increase circulation of blood and balance the thyroid. It is also a useful elixir to help with menstrual and menopausal issues, and can decrease nausea, vomiting, and morning sickness during pregnancy. Wearing Citrine at night can rid one of fear and stop nightmares. It can be used to help get a good night's sleep.
Although I was never a fan Citrine, I must admit I am now. It seems to have great metaphysical power. Remember, however, that I prefer to use gemstones as a supplement to traditional medicine.  If you are having issues, you may want to seek an appropriate professional.
SOURCES:
The Crystal Bible by Judy Hall  (Walking Stick Press, 2003) pgs. 117 -119;
Crystal Vaults;
Cunningham's Encyclopedia of Crystal, Gem, and Metal Magic by Scott Cunningham (Llewellyn Publications, 2002) pg. 98;
Gem Stones A – Z by Diane Stein (Crossing Press, 2008) pgs. 59 – 60.

About The Author: Mataya

Mataya's Light Readings are a gift from a higher source that she's worked hard to develop throughout her life. She understands more than most what it's like to struggle with emotional and physical roadblocks and with a Masters in Counseling, she has spent many years using her natural psychic gifts and acquired knowledge to see clients through difficult patches. Since 1988, she's professionally guided others, using Tarot and other divination tools, at various psychic fairs in California. She's worked one-on-one with clients in metaphysical shops, and enjoys a successful online practice. She's channeled energies from her guides and passed on accurate information to her clients. A true Sensitive, Mataya takes on the energy of others, feeling and sensing their challenges. Her name came to her out of the blue one day and she has since learned that Mataya mean's God's gift. If you'd like to experience Mataya's incredible gifts for yourself, try a reading with this compassionate and accurate reader. You can find Mataya at PsychicAccess.com.