Discover The Mysteries Of The Tarot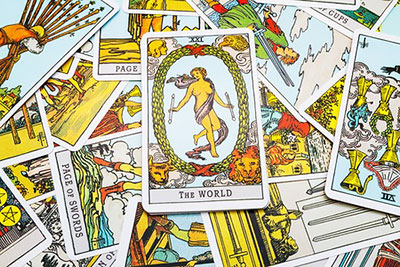 I started working with the Tarot when I was 14 years old. I read the metaphysical books of the time and wanted to explore my budding intuition. One afternoon at a bookstore, I was drawn to the Rider-Waite Tarot deck – I felt an instant pull to it in particular!
I wasn't going to the bookstore that day to buy Tarot cards, but once I did I couldn't put the mysterious deck of cards out of my mind. Once opened, I studied the deck for weeks on end, and I thoroughly enjoyed it. I soon read the cards for others.
The first time I was doing a card spread for myself, my mother walked into my bedroom and told me that my great grandmother also read the cards, as well as tea leaves. It was if she wasn't surprised her daughter would be interested in reading the cards, yet she didn't encourage me either.
The cards give you images and symbols to focus your vague intentions and transform them into action. Your will is the magic. In other words, you are the magic ~ Theresa Cheung
The Tarot is a mysterious divination tool, which I still use for my readings. I also teach the Tarot and encourage my students to explore various Tarot decks. If one deck seems to be calling to you, then that is the deck you are meant to work with. Really tune into your intuition when finding a deck which suits your needs and desires. Not everyone is the same when they choose a deck. It doesn't matter what deck speaks to you, as long as you are allowing your intuition to be your guide.
When you have found your Tarot deck, then it is time for you to begin working with the cards. Allow the cards to speak to you.  Look at each of the 78 cards, meditating on each one individually. It doesn't matter how long you look at the card, just as long you are working and getting your energy imprinted on the cards. It is matter of intention and you are intending to work with the Tarot cards, so you can open your intuition.
The beauty of working with the Tarot cards and deck itself is what I call 'intuitive Tarot.' Look at the card and write down your impression of that card. What is the story you see in the card itself? The card may speak to you differently than it does others. It is good to keep a notebook and log your impressions of each card.
The Tarot is a great way to open up your intuition and with time and patience you can read the cards in no time! It just takes a bit of work on your part and dedication.

About The Author: Angelic Amy

Amy's two near death experiences (NDE's) pushed her natal psychic abilities into overdrive and her story is featured in a famous psychic medium's new book! She's experienced a rich life full of more ups and downs than most encounter in a lifetime, which has only helped her connect to her clients on a deeper level. Tapping into her clairvoyant, clairaudient and Mediumship abilities, Amy is a prominent radio show host, has appeared on other radio shows, and is a popular Tarot reader at Psychic Fairs and parties. This native New Yorker is an experienced energy healer, a Reiki Master, and channels gentle Angelic energies through an Integrated Energy Therapy Technique. It's an honor for Amy to help you in your time of need. If that time is now, you can find this gifted psychic at PsychicAccess.com.