Creating Freedom To Expand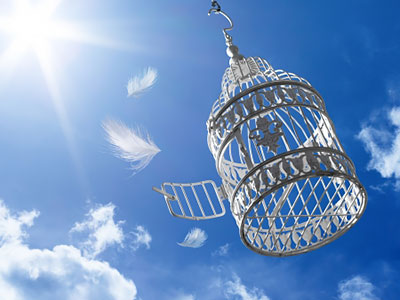 Are you feeling stuck in your relationships or career? It is time to disentangle yourself from that which is no longer serving you in your life. Let go of people, jobs, careers, 'stuff' that are holding you back and keeping you stuck. Every time you remove something old from your life, it allows space for something new to come in.
Sometimes, when you feel stuck, the easiest way to get the energy moving again is to begin to de-clutter your physical space. You like to accumulate a lot of 'stuff' and then you get attached to this stuff, and attachment breeds 'stuck energy.' In order for energy to flow freely, as it should, it is important for you to simplify your life. What in your life do you need to get rid of?
I realize there's something incredibly honest about trees in winter, how they're experts at letting things go ~ Jeffrey McDaniel
Do you have a 'to-do list' a mile long? It may be time to free yourself from some of the obligations and commitments you've made to other people in your life. Living your life overwhelmed is not what we had in mind when we invited you to sign up as a Lightworker here on this planet. We need not mention that…
Overwhelm is a lower vibrating energy that counteracts your best intentions to shine light on Earth. Throw away your to-do list and focus on three things every day that you would like to accomplish. Lighten your load and allow presence to be your priority. Then watch how everything magically falls into place.
Are you feeling like it's time to relocate? A fresh start brings much freedom and new energy into your life. If you have bad memories of the place you reside in, or things are getting sticky with your neighbors, it may be a sign from the Universe that there is a space somewhere else where you would be more comfortable. It could bring much needed change and freedom into your life.
Maybe it isn't a complete move that is best for you, maybe it is buying a cabin, building a sunroom, or a new addition to your home, or traveling or living in another place for a month or so. Be open to all possibilities in terms of finding freedom in your personal space.
Holding on is believing that there's a past; letting go is knowing that there's a future ~ Daphne Rose Kingma
The energy of freedom is in the air this week, so take full advantage of this exhilarating vibration and take action as needed. It may be something as simple as dancing to your favorite tune on your iPod, or de-cluttering your space, or playing hooky for the day.
It may also be something more serious, like a move or ending a relationship. Whatever it is, pay attention to signs from the Universe. You have a plethora of angels helping you to align with your highest good. Ask for help and be open to receive it.
Adapted from a recent weekly energy report channeled from Archangel Metatron.
About The Author: Julie

Julie is a psychic Medium, healer, and spiritual educator from Wisconsin with a plethora of metaphysical credentials too long to list here. After her father's passing, almost eighteen years ago, she fully embraced her natural gifts as a psychic Medium and now works full-time helping others all across the globe with spiritual readings and teachings from the beyond. She is the host of two radio shows, the owner of her own healing business since 2007, and heads an online University for international soul development (HSU). Julie is a Channel for Archangel Metatron, delivering clear messages to clients that transform their lives. If you'd like to experience this highly qualified and gifted metaphysician for yourself, you can find Julie at PsychicAccess.com.