How To Become A Wizard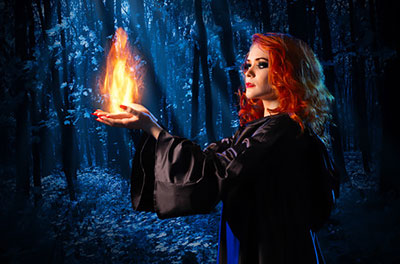 You don't have to be descended from wizards to become one yourself. Sometimes it will run in the family, but it's just as likely to show itself when a person is in the right place at the right time.
Wizards are spell casters who learn the art of magic or sorcery through research and learning. It's said you are not born a wizard, you become a wizard. You are born with the powers and mystical abilities that a wizard has, but to be a real wizard you have to become comfortable, skilled and not afraid to use those powers.
If in any quest for magic, in any search for sorcery, witchery, legerdemain, first check the human spirit ~ Rod Serling
Becoming a wizard can be a very difficult task. There is no set of instructions on how to become a wizard. There is no set of instructions on how to use these powers. No one and nothing can make you a wizard. The journey of becoming a wizard is entirely up to you. It can be a long and tedious journey and will take patience and perseverance. Not everyone who starts this journey will finish it.
There are certain steps that you must take to help you become a wizard. First you must research what exactly a wizard is and what a wizard's purpose is. Secondly, you need to find out what it will mean to you if you become a wizard. You can't become something if you don't understand what it is. Not everyone will have to same definition of what a wizard is. Each wizard is like each of us… different. Each wizard will use their powers differently too.
When you become a wizard you must be able to tell the difference between what is illusion and what is truth and fact. Wizards question everything, they take nothing for granted or on face value. They dig deep and get to the bottom of the problem. They can also look deeply into someone's heart and know if they are real or fake.
Just like witches, there are also good and evil wizards. You must decide which direction to take. Before you make that decision, think it through and make sure you choose the correct path.
About The Author: Lani

Lani is a third generation psychic, who inherited her gifts from her mother and grandmother. In addition to her skills as a clairvoyant and dream interpreter, she is a natural born empath, and can feel what others feel. She can feel your difficulties and immediately pinpoint your dilemma. Through this gift, she can accurately guide you to make the right decisions that will improve your future. Get a psychic reading with Lani now at PsychicAccess.com