The Lady In White And The Man In Black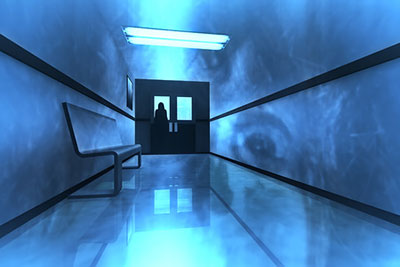 The area where I live is famous for being haunted. In fact, our "Asylum 49" was featured on popular paranormal television shows like Ghost Hunting, Paranormal Investigation and Ghost Adventures. This notorious old place is thought to be one of the greatest Halloween venues to visit on this side of the country.
Asylum 49's haunted structure takes up about half of the old hospital. The other half of the hospital is the only nursing and hospice home in the county. Asylum 49 is only open to the public from September 1st to October 31st, but in that short time they raise a lot of money. After it was featured on Paranormal Investigation, tourists and paranormal investigation teams started visiting from all over the world. Asylum 49 is also available for private tours in the off-season.
When I'm asked 'Are you afraid of the dark?', my answer is 'No, I'm afraid of what is in the dark.' ~ Barry Fitzgerald
On the other side of the haunted building is the nursing home, full of too many people the world has forgotten. I have a 19-year old grandson who works there as a certified nursing aide. Although he will be returning to school, to get his registered nursing (RN) degree, he loves the work and feels for the residents. He has his own gifts – he can flirt with the old ladies, and talk cars and guns with the old men.
My grandson loves watching me work and has developed enough respect and trust that he comes to me when he sees something, or hears about something he can't explain. Now, it's important to understand that he is Taurus, with Virgo rising and his moon in Taurus. This means that he is very grounded and normally would consider what I do 'malarkey'. He also has a bit of a temper, but once he has spoken his piece, he's capable of letting it go. But he wasn't raised around me, and was raised by a non-believer, which adds an interesting slant of its own.
In the nursing home there are several spirits, according to my grandson. They move around the halls… lost. But there are two spirits in particular who bug him a bit. One he calls the "Lady in White", and the other he calls the "Man in Black". The Lady in White is mischievous, she takes his pens and puts them in rooms he hadn't been to yet during that shift. She's rearranged papers, causing him to fill them out again, only to find them later, usually not where he left them. There are other things she's done, but he feels like she's there as a calming influence to the residents, and is just having a bit of fun.
A person terrified with the imagination of spectres, is more reasonable than one who thinks the appearance of spirits fabulous and groundless ~ Joseph Addison
The Man in Black is a different story. My grandson doesn't feel any evil from him and we've talked at length about him. He believes the man is like the Grim Reaper – just there to do his job. I don't. He says this guy stands in shadows a lot of the time, and it scares the residents. He doesn't feel any fear for this spirit, other than a fear that another resident will pass from this life. It saddens him when that happens. The Man in Black has gotten in my grandson's face and has tried to stare him down, but he is solid and built like a line-backer, so it's hard to get him to back down on anything, and mentally he's strong – it's hard to scare him.
Several residents have asked Brady if he's seeing the ghosts too. He admits he does, but assures them there is no reason to be afraid.
A new care facility is being built at the nursing home; it should be ready in a few more months for the residents to move to. We haven't heard what the plans for the old building are yet, but we both agree the area needs to be cleansed before anything else is built there, otherwise, we believe those spirits will stay.
About The Author: Indigo

Indigo is an Indigo child, her gifts have been handed down through generations, and she has used them since she was a teenager. Using a unique blend of, tarot, astrology, numerology, psychology and clairvoyance, she is able to give you the most information in the shortest time possible to help you find a way to change your situation. She has been a spiritual advisor in her community for 20 years and continues her education, while fostering the gifts she has handed down to her grand-children. You can get a reading from Indigo at PsychicAccess.com.