Today I Choose Joy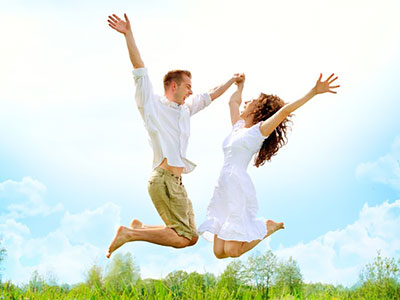 I always tell my clients to start the day by choosing joy. When we are in the vibration of joy or love we begin higher on the vibrational scale, and when we hold one energy we cannot hold another. So, when we are in the vibration of joy, we can't be in fear, dreading or doubt. The reverse is true. When we are in fear, we don't feel love or joy.
I recommend a very sweet exercise that produces great results when we practice it, not only with words, but also by adding feeling and a sense of allowing. As with any exercise I use myself, or offer to my clients, I like to make it playful. So let's play!
In the evening before you go to bed, when you have your PJs on, or first thing in the morning, make yourself comfortable and think of something that raises your vibrational state to one of joy. Put aside any doubts or resistance. Then in your journal, or on a pretty paper, and with your favorite pen, you can write down how you want your day to progress while holding this high vibe.
Joy does not simply happen to us. We have to choose joy and keep choosing it every day ~ Henri J.M. Nouwen
Think, feel and write all the things you will do, what will you wear, is there a fragrance you would like to apply. See in your mind's eye the people you will meet and feel in a positive and joyful light, and how things smoothly progress. Be in that state of joy and allowing, know that everything will come to you that you need. Some people tell me that they feel a light around their body, others feel a sense of lightness. I feel the cells in my body soaking in the joy.
This exercise may just take a few minutes to do, but it sets your expectations and sets your energy around your day. It beckons the Divine or Universe to deliver to you what you have asked for.
As I am writing this blog, the Olympic games are going on and one listens to the amazing stories of the athletes, who seemingly against all odds have chosen joy every time. They use exercises similar to this one to go through their performance in their minds and bodies, before they start their day or next performance.
If during the day you feel your energy dip, or feel resistance, you can check where you sense this in your body. Our bodies hold our energy. You might feel a tightness, discomfort, or pain.  Take a minute to send that area of your body love and see a beautiful golden light coming in from your head and moving slowly down your body and into this area. All the other areas of your body will be benefitting too! Visualize and feel your skin, muscles, bones, and cells relaxing and soaking in the love and golden healing light. Smile as you are doing this. Then replay the positive scenario you want to see and send everyone involved light and love.
Give this a try, be playful, imagine it in Technicolor, and really feel it, and notice all the details. Your day will go smoother, your vibration will be higher and without resistance, the Universe can deliver your desires. This simple exercise is very powerful!

About The Author: Maggie

Maggie helps people turn the radio dial up on their vibrations to hear the messages you're meant to receive. It all began as a teen with a dog-walking job in the neighborhood that—if you'll excuse the pun—unleashed Maggie's innate Gifts as a powerful Intuitive Reader. What followed was a rewarding career as a Tarot Reader, Numerologist, Reiki Master, and Angel Card Reader—to name just a few of her remarkable skills. Maggie's accomplishments include on-air co-host for Blogtalk Radio, several published articles on Tarot and Numerology, she's an endorsed reader for The Tarot Guild, and a much sought after Intuitive Reader hired for both corporate and private events. In addition, she has a YouTube channel where you can view and subscribe to her weekly vibes. If you'd like to personally tune-in to Maggie's unique and highly accurate vibe, for yourself, you can find her at PsychicAccess.com.