Brother Moon And Sister Sun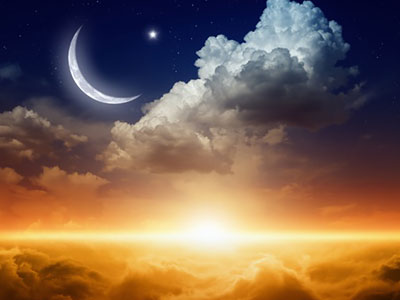 A Native-American legend from the Cherokee tribe tells the tale of Moon, and his sister, Sun.
Sun was a young maiden who lived in the East, with brother, Moon who lived in the West. Sun's brother Moon stayed far away from her, at the other end of the night.
The maiden Sun also had a lover who used to come every month in the dark of the moon, to court her. He would come at twilight, and leave by dawn.
She talked with her admirer, but he never allowed her to see his face in the dark. He also would not share his name with her. As time passed she was wondering all the time who he really could be.
Finally, Sun came up with a plan to find out who her secret lover was. The next time he came to her, while they were talking in the dark of the night, Sun covered her hands with ashes from the fireplace and rubbed them on his face claiming his face was cold.
Three things shine before the world and cannot be hidden. They are the moon, the sun, and the truth proclaimed by the Tathagata ~ Pokala Lakshmi Narasu
"You must have suffered from the wind," she gasped, while pretending to be sympathetic. He didn't know she had ashes in her hands and after some time he left again.
The following night, when Moon came up in the sky, his face was covered with grey spots, and Sun finally knew her brother was the one who had been courting her! Moon was so ashamed when he realized she had discovered his secret.
An Inuit legend takes the story further with a tale of brother Moon attempting to rape his sister Sun. In this version of the legend, a sudden wind had blown out all the lamps, preventing Sun from identifying her anonymous violater. Sun then smeared Moon's back with soot, and once the light returned she was able to identify him. Moon fled the scene in haste, stumbled and caused his torch to be extinguished. This is the reason why Moon's light will never shine as bright as that of his sister Sun, because his torch had fallen in the snow.
The sky is that beautiful old parchment in which the sun and the moon keep their diary ~ Alfred Kreymborg
Another version of the Inuit legend simply has it that brother Moon and sister Sun quarreled all the time, until they agreed to disagree and to take turns to light up the sky. That way they would never have to cross paths again.
Regardless of what really may have happened between brother Moon and sister Sun, it changed their fate for all eternity. To this day, Moon tries to stay as far behind Sun as possible, and at those times he has to come near her, he makes himself as thin as a cord, so he can hardly be seen.
About The Author: Indigo

Indigo is an Indigo child, her gifts have been handed down through generations, and she has used them since she was a teenager. Using a unique blend of, tarot, astrology, numerology, psychology and clairvoyance, she is able to give you the most information in the shortest time possible to help you find a way to change your situation. She has been a spiritual advisor in her community for 20 years and continues her education, while fostering the gifts she has handed down to her grand-children. You can get a reading from Indigo at PsychicAccess.com.