Supported By Spirit – Part 3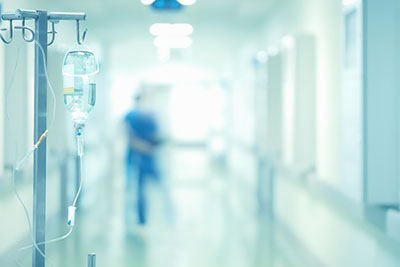 Continued from Supported By Spirit – Part 2.
My injuries were so severe that I needed ongoing support as I healed. I was sent from the second hospital to a long-term convalescent care facility, located within a nursing home in another city, in order to recuperate for an additional three months.
On my first day in the nursing home, a wonderful woman came into my room with a message from spirit. She was a member of the cleaning staff and she asked me point-blank why I thought I was there. When she saw my confusion, she answered her own question by telling me that I looked like a workaholic to her so she felt that my accident had been sent to slow me down.
I mulled this over for a split second and agreed with her totally. I had accumulated 57 days of overtime in only five months of work at the new job, often traveling to a different city across the country each day. I was exhausted and, at the time of the accident, I had been facing many more weeks of continuous travel, conducting business presentations and training workshops throughout the Fall.
I finally realized that I had become off-balance over the previous few months. I could not give private readings, due to the long hours and different time zones. I didn't have time to speak in the various churches when I was at home. In short, I was running from airport to airport on a non-stop path to destruction. My new friend was right – I was there to slow down and regain balance.
I still remember that very first night. As I was falling asleep, I watched the ceiling somewhat mesmerized by the various lights that flashed from the smoke detector and sprinklers on the ceiling. Some were red. Some were green. Some were blue. I dozed off trying to make sense of the flashing patterns.
All things considered, I was very comfortable. Compared to the two hospitals, the nursing home was an absolute delight. It was a new building and I had my own room with a large, en suite bathroom, lovely meals in the dining room, a TV lounge, library, entertainment area plus a snack cart that made the rounds three times per day. I didn't bring in a personal TV but I had my laptop and cell phone to stay connected. It was like living in a hotel because I wasn't sick – just badly broken.
We had in-room physiotherapy each weekday. I gradually learned to dress myself with one arm and, as my foot and knee got stronger, I was able to 'walk' my wheelchair to the recreation area by using my heels on the floor. I still couldn't use my left shoulder to wheel the chair, so I had to modify everything I did.
I worked hard throughout the slow and painful healing process. I enjoyed meeting my fellow residents who ranged in age from 55 to 101 years of age, each of whom had broken limbs just like me. I found joy in laughing again and comfort in knowing that I was not alone.
However, there was one thing that I couldn't do – thanks to very strong narcotic painkillers, I was still unable to focus on working with Spirit to heal myself or others.
It turned out that this was not a problem, though. After a few days at the nursing home, I realized that there was only one tiny flashing light in the bedroom ceiling. Once again, my Spirit friends were on guard working with me and doing the healing on my behalf.

About The Author: Monica

"What you think about, you bring about; what you believe, you become." This is Monica's philosophy, derived from her twenty-five years of experience as a Clairvoyant, Light Worker and Medium, living in Ontario, Canada. Monica has been a guest speaker at various Spiritualist churches, conveying Spirit greetings and messages from loved ones during Sunday services, All Mediums Nights, Healing Services, Meditation Services and special fundraising events. She's been an advisor to several international business leaders and connects with all of her clients on a level of love light and empathy. She delivers messages containing ideal outcomes and positive solutions with the help of her guides. If you'd like Monica to help shape your destiny, you can find her at PsychicAccess.com.


This site uses Akismet to reduce spam. Learn how your comment data is processed.