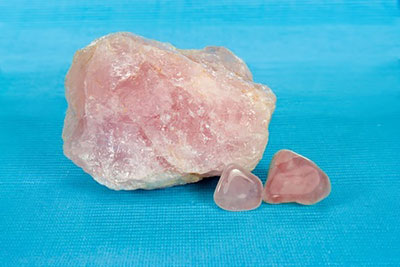 Did you know that Rose Quartz offers a solution for those days when everyone seems to rub you the wrong way, and you wonder what's wrong with everyone! Or you wonder… maybe is it just me? Or have you been in a public situation where you feel a bit overwhelmed by everyone coming on too strong? Surround yourself with an imaginary bubble of Rose Quartz, or better yet, wear a piece of Rose Quarts jewelry and notice how your experience changes to a more positive, nurturing vibe.
Rose Quarts is a very happy and loving stone. It is a pink quartz crystal with a vibration of love, peace and overall calming energy. Rose Quartz is a calming and reassuring crystal and is especially helpful to individuals who are highly sensitive.
Rose Quartz is a good stone for someone who has trouble loving themselves or accepting love from another because they do not believe that they are worthy of being loved ~Whitehorse Woman
This special crystal derives its name from its lovely rose pink color. I recommend you visualize surrounding your auric field with that color, if you want to soften the interaction you have with someone. Another helpful application is to place a piece of Rose Quartz in your workplace to provide continuous protection against negative or intrusive energy. It not only brings inner warmth, but is also lowers stress levels and soothes those around you.
That's why it is known as the 'love stone,' because the energy it emits is the strong vibration of unconditional love, joy, warmth and healing. It brings out the best in people and situations anywhere you place it.
This beautiful pink crystal has a powerful energy that resonates within the heart chakra and the thymus, the area related to compassion. If you wear a necklace with a piece of Rose Quartz at the location of your heart chakra, it will intensify the love energy and fill your whole aura. It will also aid anyone around you who needs love and nurturing.
Its gentle energetic essence of unconditional love is a soft feminine energy of compassion and peace, tenderness and healing, nourishment and comfort. It has a way of inspiring nurturing of the self too. The high energy of quartz gives rose quartz the property of enhancing love in virtually any situation.
Emotionally, Rose Quartz is used to balance emotions and bring peace and calm. This calm emotional balance brings relief from any kind of stress and eases anxiety. All these things support the energy of forgiveness, tolerance, and compassion, and enable us to see the good in both ourselves and others.
It is excellent in a crisis and it has been documented many times that the wearer of a rose quartz pendant has had the stone shatter on impact of 'bad news'. This stone really knows how to love you, it will even teach you 'sacrificial love'. It will sacrifice itself for you; rather it breaks, than your heart breaks ~ Hazel Raven
You can also place Rose Quartz and a pink candle near a photo to strengthen a romantic relationship, to encourage harmony, invite unconditional love, and support forgiveness. This crystal is known for its effectiveness in healing personal relationship problems and will also aid in emotional healing.
The presence of this lovely pink love stone will send a soothing vibration not only to the person wearing it, but also resonates throughout the room where it is located. It will bestow a peaceful and calming sensation that can assist in healing the heart and dissolve anger and resentment.
Other ways to use Rose Quartz would be to place a piece under your pillow, to promote peaceful sleep and positive dream experiences.
Rose quartz should be cleansed every week by placing it under running water. You can also cleanse and charge it by placing it over night under a Full Moon. It can also be cleansed and charged by placing it next to Amethyst. Sunlight can cleanse and recharge a quartz crystal but be careful with Rose Quartz, because prolonged exposure to sunlight can cause the color to pale.

PsychicAccess.com.


Stacy is a talented Medium, Healer, Bodyworker, Reiki Master, teacher and entrepreneur living in a cozy hideaway on the Central Coast of California. She possesses a variety of Clair gifts and is well versed in metaphysical practices. Stacy has spent thousands of hours reading for patients in Hospice and has honed her gifts without the need of any outside tools! She's been an active seeker of knowledge, wisdom and experience for forty years and feels inspired to share her gifts as a spiritual counselor and healer with others to ease suffering and clear confusion that sometimes clouds our truth and higher purpose. She works with Angels and Guides to bring their peaceful, loving and transformative messages to her clients. If you'd like to experience Stacy's inspirational energy for yourself, you can find Stacy at