Today's Emotion Becomes Tomorrow's Health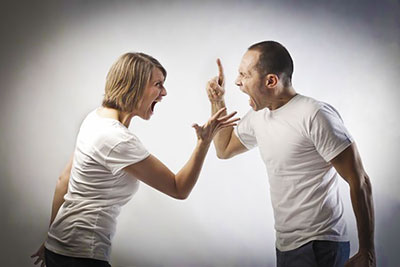 New research from UC Berkeley and Northwestern University revealed that the negative behavior of some couples during conflicts can causes physical symptoms. The study specifically revealed that outbursts of anger may predict cardiovascular health problems later in life.
This isn't anything many of us didn't already know. The spiritual community has always known that emotions are linked to health, and that our behaviors today can predict the development of negative outcomes in our future. The way you argue or fight will directly result in manifesting in your body, either immediately or over time.
Conflict happens in every marriage, but people deal with it in different ways. Some of us explode with anger; some of us shut down. Our study shows that these different emotional behaviors can predict the development of different health problems in the long run ~ Claudia Haase
According to the study, if monitored, the body reacts immediately to the outburst, but it also shows up later in life as illness, with one example being high blood pressure. Conversely, shutting down emotionally during a fight raises the risk of problems in the musculoskeletal system, resulting in stiff backs and muscles. Holding the emotions in can be as bad as an outburst.
The most pronounced of health outcomes was for husbands, but the correlations were found in their wives too. Based on how spouses reacted to arguments, the researchers could determine which spouse would develop certain ailments.
Does this mean that you should run out and divorce your significant other? No. Conflict happens in every marriage and in almost any relationship, including friendships and workmates. These findings simply bring new awareness to the situation, so that couples can begin to take note of their behavior and learn to deal with their issues by managing themselves.
In the 80's Louise Hay's, book You Can Heal Your Life was, and still remains, a best-seller. She detailed and matched symptoms and their meaning within the body. Louise Hay has been there herself. She saved her own life and she tells it like it is: you are responsible for your life, your happiness and your health. Hay uses affirmations and mirror exercises to change thought patterns. Thought patterns then change attitudes and the result, is a happier you.
Hay says that the most important thing we can do is "stop criticizing yourself." In relationships we criticize our self and we criticize others, which is really only a mirror of self. Being self-critical affects everything – our friendships, relationships, finances and our jobs. Our attitude about life is reflected in everything we do. What's her medicine? Complete self-acceptance and love.
There are two types of seeds in the mind: those that create anger, fear, frustration, jealousy, hatred and those that create love, compassion, equanimity and joy. Spirituality is germination and sprouting of the second group and transforming the first group ~ Amit Ray
When we accept ourselves we transform every part of our lives. Our lives begin to work and we attract people who are like-minded and hold the same attitude.
We are our own worst enemies as we entertain imaginary fear of what the future will bring, while we dwell on our past mistakes, regrets and misgivings, which will eventually manifest as physical symptoms. We must rid ourselves of negative emotions and habits by transcending being our own enemy to our own best friend.
In the beginning things can get worse before they get better, as some things are resistant to change and we are often in the habit of being the victim. Way too often we worry about what other people think, instead of worrying about what we think. We stop caring about how people view us and start to change how we view ourselves.
We have heard it all before, it begins within. If it begins within then that means that you have the power as co-creator. Don't give that power away. Believe in yourself, love yourself and know that you are a perfect piece of the greatest puzzle.
Find your purpose. It is right inside your beautiful heart. You Can Heal Your Life is clear and easy to understand. It is upon us to recognize that we throw our lives out of balance and it is only us who can truly turn it around and center to realize our full potential. Seem too simple? Try it, it works.
About The Author: Jacklyn

Jacklyn is able to read the heart and energy patterns of others, uncovering the true intentions that create their realities. She lives in Northern California, where she's counseled over 3000 clients, and has worked with police on missing person and cold cases. She's read for clients around the world, consistently astonishing them with her abilities. An expert in Tarot, Astrology and Dream Interpretation, for over thirty-five years, she's utilized these tools to see, hear and feel messages on just about every subject. Jacklyn is a firm believer that we are the creators of our own lives and knows that Miracles are built on faith. As long as you believe, anything is possible! If you'd like a reading with this Intuitive Wonder, you can reach Jacklyn at PsychicAccess.com.