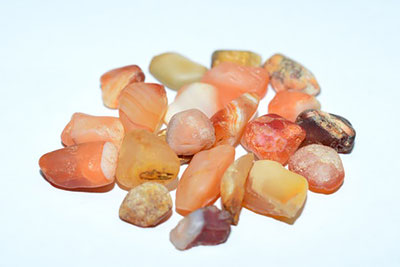 Carnelian is a part of the Agate family and a form of Chalcedony, the gemological term used for all types of quartz in cryptocrystalline form. It can be red, orange, and red-brown and has both the properties of Agate and Chalcedony.
Agate is effective in balancing the yin and yang energies. It stabilizes the aura and gives a cleansing effect. It transforms and eliminates negativity. Agate further increases analytical abilities and precision and awakens natural talents. It creates inspiration from, and connection with entities in the spirit world.
Chalcedony is part of the quartz family. It is traditionally used as a sacred stone by Native Americans and is good in balancing energies of mind, body, emotions and spirit. Chalcedony represents good will, while decreasing hostility, sadness, or depression. It also increases receptivity, responsiveness, and giving.
Carnelian is frequently known as a stone of great spirituality. It has been said to be a healing gem with a wondrous capacity for mental and physical healing properties ~  Liddy Midnight
Carnelian stimulates the ability to be analytical and precise. It stimulates curiosity. It helps increase perceptiveness and awakens natural talents. It also helps to create connection to the spiritual worlds.
Carnelian also protects against rage, fear, and envy. It helps to rid individuals of sorrow. Carnelian can additionally be used to rid other stones of negativity.
Pink Carnelian encourages love between parents and children. It can be used to rid one of apathy and passivity.  It can also be used to work on the first, second, third and fourth chakras. It increases physical energy, creativity, compassion, and personal power.
Light Readings are a gift from a higher source that she's worked hard to develop throughout her life. She understands more than most what it's like to struggle with emotional and physical roadblocks and with a Masters in Counseling, she has spent many years using her natural psychic gifts and acquired knowledge to see clients through difficult patches. Since 1988, she's professionally guided others, using Tarot and other divination tools, at various psychic fairs in California. She's worked one-on-one with clients in metaphysical shops, and enjoys a successful online practice. She's channeled energies from her guides and passed on accurate information to her clients. A true Sensitive, Mataya takes on the energy of others, feeling and sensing their challenges. Her name came to her out of the blue one day and she has since learned that Mataya mean's God's gift. If you'd like to experience Mataya's incredible gifts for yourself, try a reading with this compassionate and accurate reader. You can find Mataya at PsychicAccess.com.


Mataya's