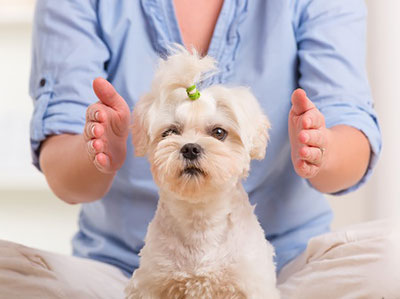 Energy medicine, most specifically Reiki, can have the most amazing results when practiced on humans, animals and even plants. As a Reiki Master, I have noticed great benefits from using Reiki on my own animals, as well those of my clients.
Reiki is a natural form of healing that harnesses the universal life force, to promote healing and relaxation. The Reiki system of healing was created in the nineteenth century by Dr. Mikao Usui.
There are many Reiki practitioners that work almost exclusively on animals. Reiki can be used hands on, or by means of distance healing in which the healer uses a picture or impression of the animal that needs healing.
Reiki has transformed the way I look at and relate to all beings and species on this planet ~ Kathleen Prasad
Animals, such as dogs, cats and horses, have some of the most impressive testimonials for the healing system of Reiki.  Animals have less barriers and stress than humans. They are more in-tune with the world around them and are not bogged down by the mundane. They absorb Reiki like sponges and many of them after having received a healing will 'ask' for it again.
Reiki is especially helpful in cases of pain and inflammation. I have successfully used Reiki many times to alleviate arthritic pain in my dogs, digestive issues with my cats and, most amazingly, as an effective treatment for colic in my horses.
Animals, as well as humans, have a chakra system. Chakras are the energy centers located along the spine in humans, and similarly with cats, dogs and horses. Animals also have minor chakras located in their paws or hooves, called "buds."  Like humans, these chakra centers can become blocked or unbalanced. When you send Reiki energy into the chakras, they become energized and balanced giving the animals a sense of relaxation.
Through this relaxation the inflammation and pain begins to heal. You may notice your pet licking its lips, sighing, or a horse may have a bowel movement. All signs that your beloved pet has begun to benefit from the healing energy of Reiki.

The Wings of Isis series, released in 2010. If you'd like a private look at your past, present and future, you can find Brenda at PsychicAccess.com


Brenda is a 3rd Generation Clairvoyant, Medium, teacher and lecturer who has appeared on Jay Leno, as well as other popular TV and radio shows. Known for her accurate timelines of when and where events will precisely occur, her reputation continues to spread both nationally and on the international scene. She is also a published author of several books, including