The Magic Of Amethyst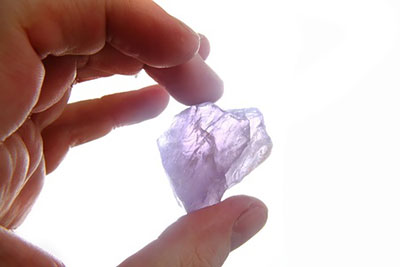 Are you interested in using crystals and gemstones in your magical workings? There are hundreds of stones to choose from, but which ones you choose will ultimately depend on your intent. Always select crystals and gemstones for use based upon their  attributes, and you won't go wrong.
I love to use amethyst. It is my birthstone and is also the 6th anniversary stone. Amethyst is a form of quartz crystal, and appears in a wide range of purple and violet colors. My favorite color is the deep purple variety.
Amethyst is associated with the element of water, and  it is also connected to the water signs of Pisces and Aquarius. One can use amethyst in healing rituals related to treating depression or anxiety, mood disorders, and to relieve stress.
Elestials are very powerful crystals that can be used to overcome emotional burdens, synchronize the mind, heart, and emotions, and ultimately bring us to cosmic consciousness – the foundation of our very existence ~ Karen Kuk-Nagle
I mostly use amethyst to keep me in touch with my spiritual side. On a spiritual level, amethyst is good for improving the mind and enhancing our intuitive powers. It can also be useful in the cleansing of sacred spaces.
Amethyst brings peace, protects against from psychic attack, helps to induce restful sleep, eases stress and enhances meditation practices. It is also said to help people realize their life's purpose.
Amethyst helps you stay focused on things that are most important to you. It improves memory and this, in turn, will help motivate you to do better in life.
This beautiful crystal can also be beneficial in improving physical health. It's said to boost your immune system which in turn will help you fight off disease and make for a longer healthier life. It's also said to help with sobriety, since it has a sobering effect on those who abuse alcohol, drugs and other addictions. It helps to calm and stimulate the mind in a positive manner.
There are many more magical and healing qualities of amethyst, too many to list. Being my birthstone I have many pieces of amethyst around the house. Some are in the form of jewelry. If I feel I am going to have a stressful day, I make sure I have my amethyst jewelry on and always carry some of the crystals in my pocket or purse. Of all the crystals this is my favorite.
About The Author: Lani

Lani is a third generation psychic, who inherited her gifts from her mother and grandmother. In addition to her skills as a clairvoyant and dream interpreter, she is a natural born empath, and can feel what others feel. She can feel your difficulties and immediately pinpoint your dilemma. Through this gift, she can accurately guide you to make the right decisions that will improve your future. Get a psychic reading with Lani now at PsychicAccess.com