The Measure Of Goodness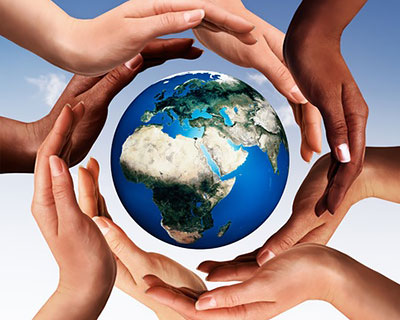 I have always had an interest in behavioral sciences and marketing, as well as spiritual work and the paranormal, and used this as a way of studying people's needs, and applied it to learning cultural philosophies world-wide.
What I have found in my research is that one can intuit people's habits as if it were a science, in order to deeply understand their collective nature. This would hopefully be an expression of their mean needs, their collective needs, or the predictive ratio, in order to see what their cultural needs were. From this arose the question: is Planet Earth happy today? Do people need more, not less material goods? Do they need more, not less love and affection? Are they less, not more aggressive? Was my perception less, not more affectionate? Yes, it also forced me to evaluate myself.
Do your little bit of good where you are; it's those little bits of good put together that overwhelm the world ~ Desmond Tutu
This way of seeing things has gone into a way of thinking that makes me stop and reconsider. And in the end I still feel, when I step out into the day, away from numbers, statistics, information, collected and collated, that mostly, one-on-one, away from group think, people are all wonderful.
All spirits try. There is a working collective. Even if the agenda of this world may seem wholly intimidating, there are enough people now who are trying to outdo the bad. Yet, we have to understand what that is, and just being in a group does not make one bad.
For example, I have learned that sometimes we don't know. We should try to look beyond, to find out that occasionally the 'good people' may be bad, that the 'bad people' may be good. We should stop accumulating too much collective information, stop collating, and simply remember what it was like to be friends. We should find real life friends, spirit friends, instead of collecting anonymous humans on the internet to be our virtual friends. We must reach out to each other.
In almost each and every psychic phone call, I hear the same message. Even if there is some adversity, there is always humor. If there is pain and hurt, there is reprieve. If there is anger, there is also a desire for forgiveness. Where there is loss, a need for approval. Where there are a million friends, deep loneliness, and where there is wealth, deep loss.
In essence, we are all somewhat the same, and where I rile at the loss and sadness of so many, I still listen out for each and every unique message, in the hope that it will remind me, and you, that there is mostly a deep protective kindness out there – even if in groups they don't behave that way.
I study goodness, and though difficult to see through the pain, I see it all day. Stay strong.
About The Author: Carmen Miro

Carmen's waking dreams have provided accurate glimpses into the future for celebrities as well as political and international figures. Her non-judgmental, Empathic approach, as well as her unique method of Tarot reading, affords her the reputation as a groundbreaker in her field. This European born Canadian is the first online psychic to promote the idea of Empathy and emotional thought transference, and she has written a great deal on the subject. For a comprehensive Intuitive reading that will transform your life, you can find Carmen at PsychicAccess.com.


This site uses Akismet to reduce spam. Learn how your comment data is processed.